...about finding them!


One curiosity I find hard to believe is that, AFAIK, only
one
of the 1962 Lark Daytona convertibles involved in the 1962 Indianapolis 500 Mile Race Pace Car program is accounted for within SDC:
62V29659
.
(UPDATE:
We now have
two
confirmations! See Posts 7, 10, 13, and 14 to this topic.
Woo-hoo!)


62V29659
is owned by an SDCer in Michigan, whose name I do not know. He bought it from Richard Poe several years ago. Richard had stalked the car, for want of a better term, many years in southern Indiana, when he and Rose were vacationing there. He finally bought the car at least ten years ago and stopped by to show it to me on his way back northwest to Janesville WI with it on his trailer. (This was before Richard and Rose moved to Nashville IN upon Richard's retiring from the Janesville WI GM Assembly Plant.)

62V29659 was complete and not at all terribly rusty, but had its share of needs as to a full restoration. (It had been assigned to then-Indianapolis Mayor Richard Barton during the April / May 1962 Indianapolis 500 festivities.) Richard has kept track of the car and reports restoration is yet to commence.

Here is the list of all 1962 Indianapolis 500 Pace & Festival Cars by interior color and Serial Number, the result of extensive Production Order research by Cousin George Krem, Larry Swanson, and myself over a couple days in South Bend in 1992: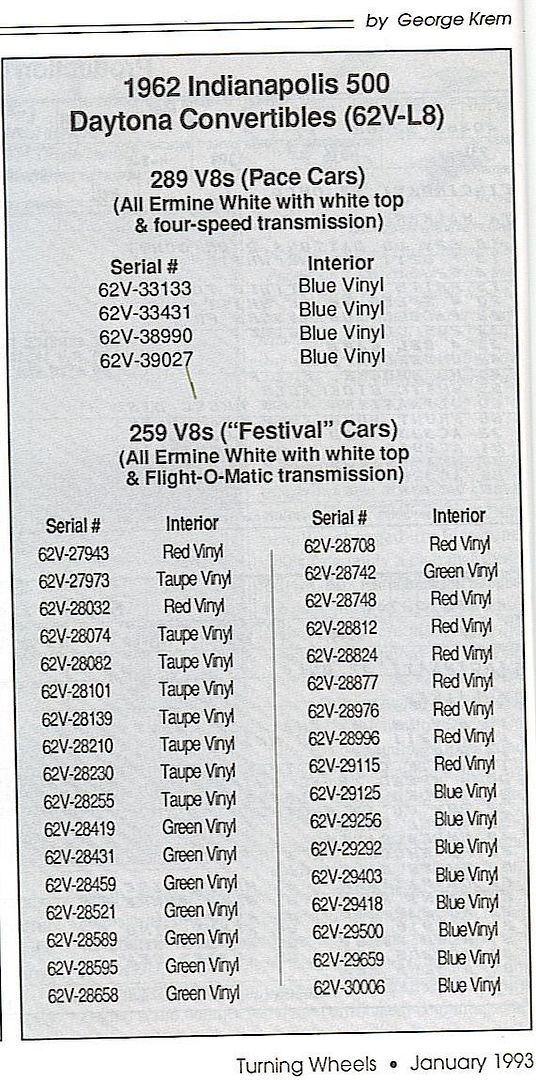 Does anyone have or know of one of these cars that we are yet to account for? It would seem like with so many of us "out there" and 1962 Daytona convertibles being easily identifiable and of collector interest even among non-Studebaker people, I would think we should be able to locate and document more of these cars than just
one!

Anyone?


(As an aside, I still have ten of these two-fold Pace Car Mailers I had reprinted awhile back, available for sale as noted in the earlier link below the photo.)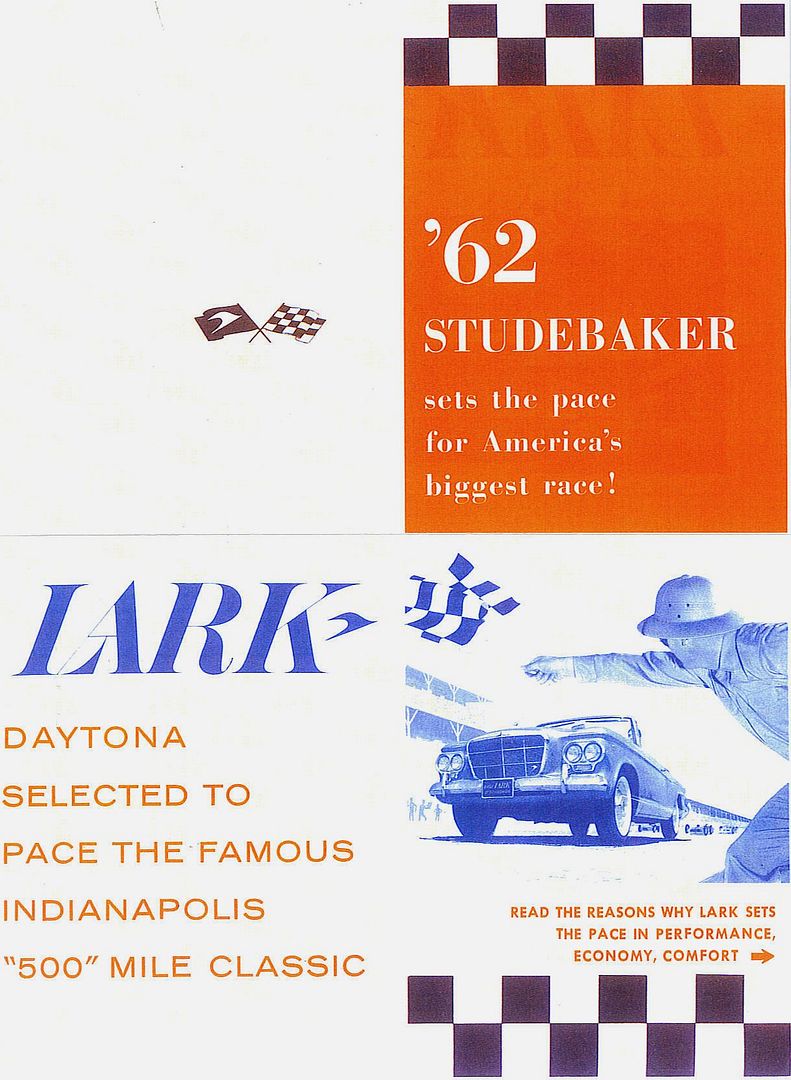 http://forum.studebakerdriversclub.c...=1962+pace+car
I'm hoping this post will alert many new sleuths out there and we can locate more of these special cars.
It seems like such a shame that only one of them is known within
The Studebaker Drivers Club
, as important as was the 1962 Indianapolis 500 Pace Car program for Studebaker marketing that year.
BP