'As advertised," Tim Lloyd took all the 100th Birthday Cards to former Studebaker Engine Engineer
Harold 'Cap' Johnson Jr,
for his 100th Birthday, which was Wednesday, November 21, 2012.
Through a mix-up in phone and e-mail messages, Tim wound up being
alone
with Harold on Thanksgigivng Day afternoon, rather than at the party that
had been
Wednesday! It's a long story, but all's when that end's well. Tim said it worked out better anyway, in that he and Harold could open the cards together and chat without the mob of people that had been there the previous day.
(Tim uses Harold's nickname, 'Cap,' in reference to Harold's military service as a Captain.)


Here's a better picture of "Cap" opening his stack of cards from SDCers on Thanksgiving Day, the day he was 100 years
plus one day
old: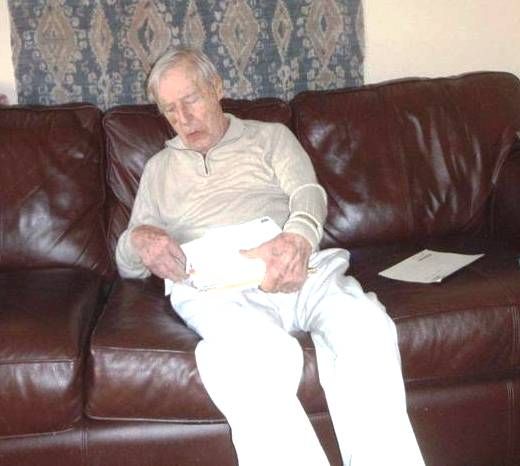 From Tim:


Bob, h
ere are two pictures I took yesterday of Cap with his stack of cards. We ended up with 120 signatures because two cards represented SDC Chapters, and they had many folks signing.



Cap and I sat on his sofa yesterday for almost an hour and a half and went through all the cards. He smiled and laughed at the funny ones. T

here were some absolutely wonderful cards from folks who told Studebaker stories, told of what cars they owned or had owned. Plus many heartfelt wishes for Cap.

Vic and Vicki Phillips from Poplar Bluff, MO sent him a 100-Year Studebaker coin! VERY COOL!

Several folks sent car pictures (including some for sale) and I would ask him questions about them that may have frustrated him as much as anything. I asked a few questions for which I already knew the answers, but they brought what I could tell was a frustrated, "I don't know." Cap is still in good physical health for being 100 years old, although he doesn't seem to like green vegetables! But old-age memory issues are taking hold. I knew he recognized me as soon as I got there, although short-term memory is just about gone.


Nonetheless, he was excited to open each and every card.
He really loved getting the cards and personally read each one.

Thank you again for being the driving force behind making this happen for Cap.
He is truly a treasure and I have been blessed to call him my friend.
Tim Lloyd.


Thank YOU,Tim, for accumulating the cards and taking them to "Cap." Anyone's 100th Birthday is a truly rare occasion, but understandable in Cap's case due to having been Hoosier born and raised, graduatuing from Purdue University, and spending the bulk of professional engineering career at The Studebaker Corporation...even until the day manufacturing was moved from South Bend to Hamilton.

Happy Birthday again, Cap. BP