Indy Chapter SDC
Members, to include former SDC President Ed Reynolds, today met for pizza at
Richard's Pizza
in Franklin IN,
IDYSD.
Attending were about 30 members and maybe 15 Studebakers, including Charlie Griffith's pretty
1927 Dictator,
driven
about 25 miles each way to attend.
Richard's Pizza happens to be located at 249 (
or 229, depending on your source
) S. Main Street there in Franklin. It's in a delightfully-repurposed older building with an automotive past that may be ascertained by studying this advertisement: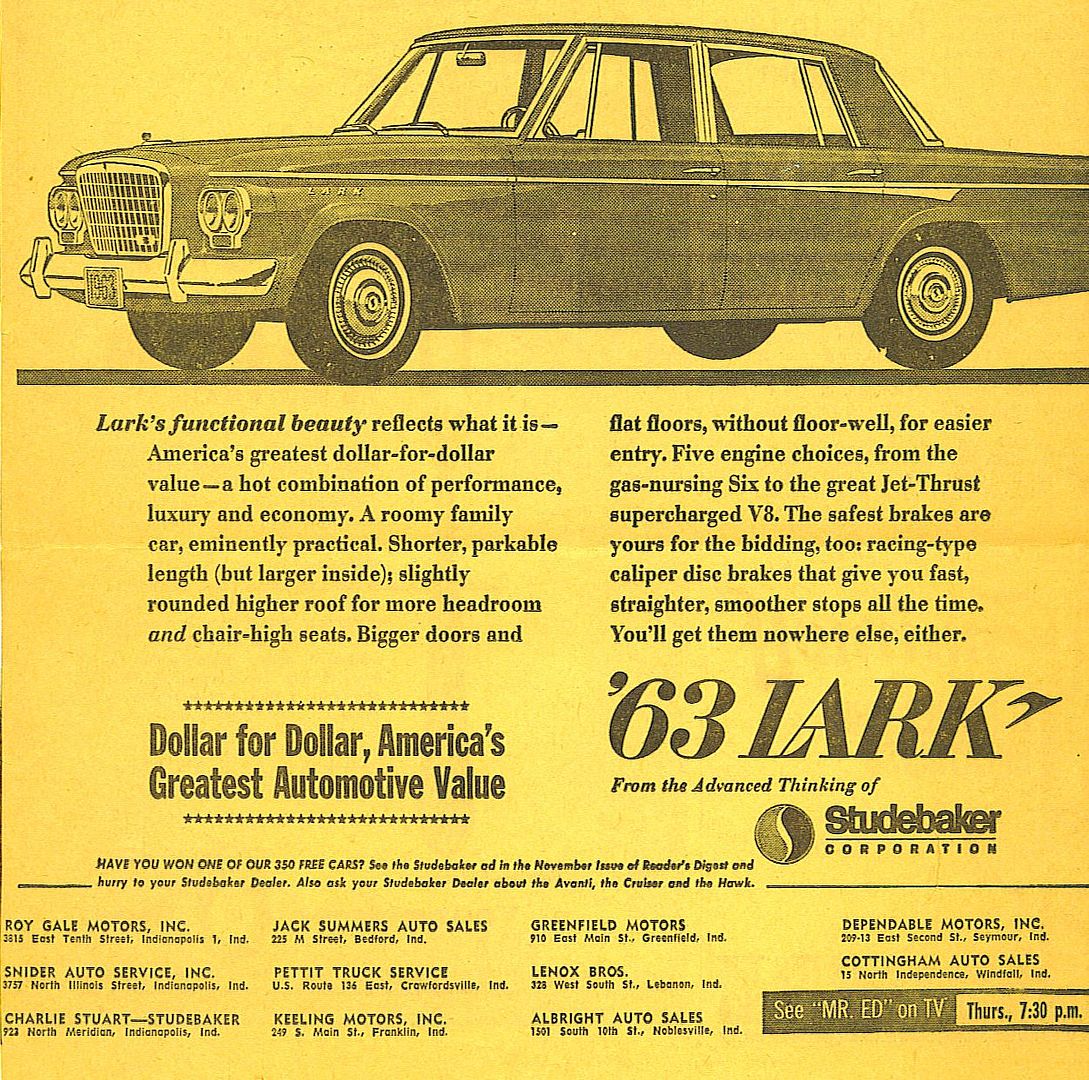 How about that?


Among the members attending was Nashville IN Barrister Jim Roberts. Jim is just old enough to have frequented this building with his father when buying Studebakers and having them serviced. (BTW, at age 19, I attended the auction when Keeling Motors went out of business in late 1965!)

However, I always thought Keeling simply went out of business like so many other Studebaker dealers at that time, as new-car sales fell below -ahem- "sustainable" levels. Jim Roberts today set me straight on that. He reported that Pete Keeling's consientiousness as a dealer and mechanic ultimately cost him his life, going out of the way to service Studebakers he sold.

Jim said Pete went out to someone's house one day in 1965 to adjust something underneath a recently-delivered Studebaker, possibly a parking brake that was hanging up, but he wasn't sure. Pete took along a jack and jack stands, but the car slipped off the stands while he was under it, fatally crushing him.
OUCH. Gulp; I did not know that.



On a much happier note
was Jim's recollection of his father ordering and taking delivery of a new 1960 Hawk from Pete Keeling. Pete knew Jim's Dad was interested in a new Hawk...but if you remember, the possibility of Studebaker building 1960 Hawks was questionable at the beginning of the 1960 model year, in that they wanted production capacity for

Larks.

So they didn't build any Hawks right away.

When Pete got word they were going to build 1960 Hawks, he called Jim's Dad. Jim remembers Pete coming out to their house to have dinner with them(!) and take the order for the new Hawk. Jim said his Dad was a bit of a CASO even then, insisting on dog-dish hub caps and the standard 2-bbl carb, but did specify overdrive. The car was white, as seemed to befit many 1960 Hawks.

Jim was old enough to drive when the car arrived, so he accompanied his Dad to pick up the new Hawk. Much to his surprise, Jim said his Dad told Mr. Keeling to give Jim the keys(!), so Jim got to drive it home from the dealership!


Today, Jim was able to point to the very place at the curb in front of Richard's Pizza where the new Hawk was parked when he got the keys and instructions to "drive straight home." Which he did.




Cool beans.

BP