....it was my privilege to meet the famous
Ted Harbit
for the first time.
As many of you know, our home is 3 miles WNW of Indianapolis Raceway Park, home of the
NHRA National Drags
every Labor Day weekend. Because it is flat farm land, we hear (and feel!) the thunder of the bigger rails and dragsters running during the event, even inside our home!
And happy memories of 1962 return, when Studebakers were still in production and Studebaker's future looked bright to this then-16-year old. After all, the fresh new Lark Daytona had just paced The Indianapolis 500 Mile Race, Avanti production was finally underway, and rumors of Avanti engines being available across the entire 1963 Studebaker V8 lineup were coming to fruition.
(Ignorance is bliss, as they say.)
Further, my folks had just moved the family to northeast Indianapolis...and even though I was a fish out of water in a big new metropolitan high school, there were
three
Studebakers dealers in Indianapolis to pester with frequent regularity!
Woo-Hoo!
But my biggest Studebaker treat from the move east would come over Labor Day weekend 1962. Then, I got to drive the family's 1957 President 2-door, Coppertone and White, across Indianapolis to a drag strip "out west" by Clermont
and go to The National Drags at Indianapolis Raceway Park.
There, over Labor Day weekend 1962, exactly 50 years ago, I would meet a young Studebaker drag racer I had only read a little about but nonetheless wanted to meet: One

Ted Harbit,

then of Frankton IN. And I got to see his new Studebaker drag race car,

The Chicken Hawk,

make its inaugural appearance of what would be many at The NHRA National Drags!
Ted remembers better than I, for some odd reason, this nutty 16-year-old running across the Raceway Park pit area toward Ted's second-series, two-tone blue, 1955 Commander 4-door tow car and the then-beige

Chicken Hawk.

I can't say it was 50 years ago today (September 1), because it might have been a day or two before, but it was just before

"The Big Go 1962,"

the final eliminations at the 1962 NHRA National Drags during the 1962 Labor Day weekend.
Ted and

The Chicken Hawk

would prevail in those 1962 Labor Day eliminations, so this famous photo of them (upper left) was legitimately taken a week or two after I met him. He was 27 at the time: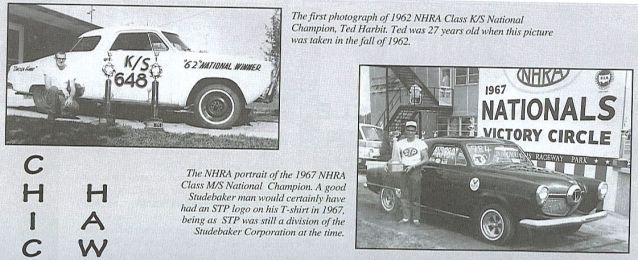 (Add exactly 50 to my 16 and his 27 as of Labor Day 1962 and you'll know how old we are today.
)
At the other end of The Chicken Hawk's reign at Indianapolis Raceway Park was this wonderful photograph taken over Labor Day weekend 2004. Courtesy of photographer Jack Bleil of Mentor OH, it was published with the appropriate story in the May 2011

Turning Wheels:
The Chicken Hawk
would never return to Indianapolis Raceway Park after the above photograph was taken.
It's been a terrific privilege to know this fine American and dedicated Studebaker racer for what is now a full half-century, so
Happy Meeting Day,

Ted,
and best wishes for another 50!
BP