One hope I have is to some day locate a
Packard
my Dad sold new.
To date, the only extant car sold new by
Palma Motors
(June 1953-June 1955) or
Palma-Rhoads Motors
(June 1955-July 1956) is
1956 Golden Hawk #6032356.
That special Golden Hawk has been discussed here many times, and it was the Cover Car of August 2006
Hemmings Classic Car
special Studebaker issue:
I watch E-bay Packard ads fairly closely. Something in this 1953 Clipper's listing caught my eye:
http://cgi.ebay.com/ebaymotors/1953-...item416a0f6e33
What caught my eye was the following text in the E-bay listing:
Have many records from previous owners that help track history of the vehicle including the original "build or order form" from O'Hair Motor Company in Mattoon, Illinois.
I knew that the Packard dealer in
Mattoon

was my Dad's nearest competitor west of Paris, being about 38 miles west. I thought I recognized the name

O'Hair,

too.
Sure enough, The Dealership Scrapbook book yielded this period photo from late 1955 or early 1956; note the promotion of

Twin Traction

on the back wall, new for the 1956 Packards.
The photo was taken in Mattoon(!) and both Dad and Mr. O'Hair attended. Mr. O'Hair is seated with the handlebar moustache, holding the papers. Dad is seated at the far right.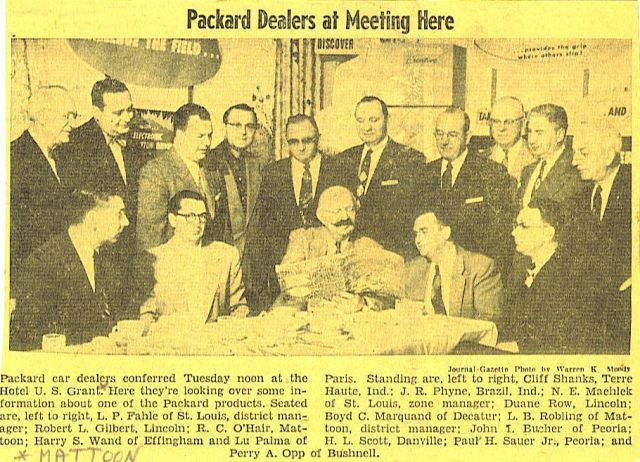 Geeze,
gettin' closer
to finding a Packard sold new by Dad; at least one surfaced that had been sold new during that period by one of his competitors in the east central Illinois market.
BP