'Never can tell where an evening out may conclude.
Wife and I went to a Historic Landmarks Foundation of Indiana Event last Thursday evening, July 19, at the Foundation's downtown Indianapolis location. This was a "then and now" lecture involving a book of Indiana Victorian homes photographed and published in 1962. They would show photos from the 1962 book and then show what the properties looked like today. Of course, some were now under the Interstate Highway system through downtown Indianapolis, whereas others were nicely restored, etc.
There was a reception afterwords so attendees could meet the presenter, the son of the gentleman who had done the photography and published the 1962 book.
We didn't know anyone and I noticed a fellow off to one side not talking to anyone, so I approached him and engaged him in conversation. He knew a little about the restored church in which the foundation's offices are now located, where we were, because he works security at the building. In fact, although he was nicely dressed in suit and tie, it turned out he was an
Indiana State Policeman
working undercover security at the event!
We got to talking about old buildings and I mentioned having just been to the Packard Plant in Detroit. One thing led to another and before long, we discovered each other's interest in collector cars. 'Turns out he has three 1955 DeSotos, one a Sportsman hardtop and two parts cars, and a nice 1962 Oldsmobile Starfire convertible. (Since he works undercover plainclothes security, I'd better not mention his name.)
Further, he is involved with Indiana State Police history and had a couple of Indiana State Police photographs involving
Studebakers
they wanted to identify! We exchanged e-mail addresses and I've since been able to provide him with several Studebaker Police Car specs and photos from back when.
He forwarded several Indiana State Police Studebaker photos for positive model ID. I asked permission to put them on our forum and he said that was fine, that credit to Indiana State Police Archives would appreciated, so the Archives are hereby so credited, and thanked.
The first photo is of a 1932 Rockne 65 coupe,
of all things, photographed in front of The Studebaker Administration Building. (Dick Quinn confirmed the car's identity):
The next three photos are, surprisingly, an early 1953 Commander Coupe(!) being used as an Indiana State Police Safety Education car.
He said of the Commander:
Way back when, they were called Safety Education Officers. Since the 1960s, they are our Public Information Officers. They are the Sergeants who make public appearances to promote safety and the ISP, and do the press/TV releases.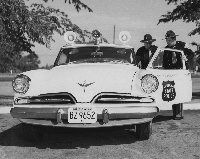 Finally, a 1962 Lark Wagon from their files:
We will be staying in touch, so I hope to have more photos to share as we exchange information. 'Might even be able to work this into a
Turning Wheels
article. We'll see.
(Ah, the benefits of attending a Victorian Home lecture, eh? Whoda' thunk it?)
BP