I had some time off this week, so I installed the Parks Pipes exhaust system (stock system, single exhaust) and connected a few missing odds and ends to enable me to fire the motor.
This is with it fully warmed up, but it was almost as easy starting it the first time. I cranked it with the plugs out until I got fuel at the carb, set the timing "close" (#1 in firing position, rotor pointing at #1), and it lit right off. I set the timing with a light and filled the trany with fluid. The carb didn't need any fiddling. It looks new, but it must have run a motor at some time.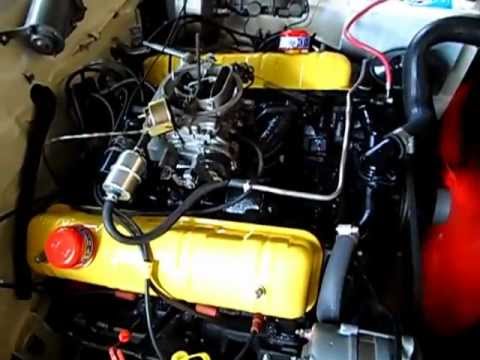 Rockers are a little loose and I have an exhaust leak at the heat riser I need to track down, but no water or oil leaks!
The trany is a "donation" from James Bell here in Bellingham. It goes into each gear and moves the car in each gear...driveway only since I don't have fluid in the brakes yet.