The 4th of July ambient temperature peaked at 98 today in central Indiana. We were going to go to the parade up the street and have a dozen folks here for a cookout, so I parked three convertibles in the front yard just for fun
: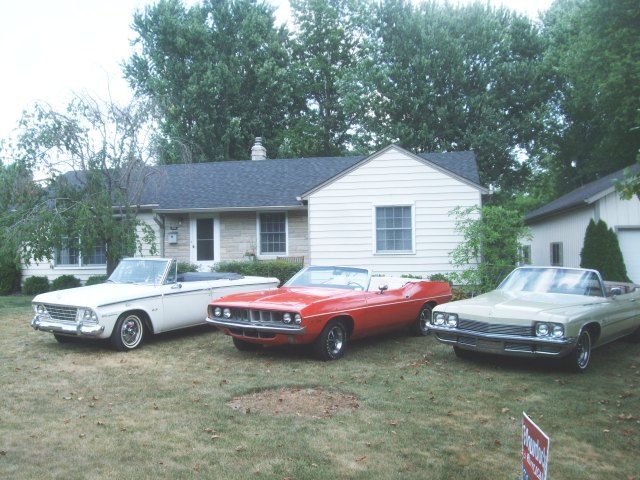 This photo was taken during a brief cloud cover around 4PM: The cars had been in the direct sun for maybe four hours by early afternoon.
So we're in the back yard and I hear a horn blowing in the neighborhood. No matter; just somebody's car alarm acting up, I thought.
Until it continued...
and didn't seem all that far away, in reality...nor was it intermittent, like a car alarm.
Hmmmm....maybe I'd better check out front.....
Bottom line:
The Barracuda is equipped with the sport, rim-blow, three-spoke steering wheel option. The sun had so baked the wheel that the circuitry shorted of its own free will, blowing the horn continuously until the horns were relieved of their duty by disconnecting their leads.
I've owned the car 36 years come December, and that's the first time this has happened.
Unbelievable.
BP