...that would be
H
eavy
D
uty
Swing Set Safety.
Earlier, in this topic a couple days ago, I reported the story of SDCer Phil Brandt relocating his

1959 Silver Hawk

after a 31-year absence.
http://forum.studebakerdriversclub.c...ot-Story-(pics
!)
Phil attended the SDC Indy Chapter picnic yesterday (June 24) at the home of Charlie & Becky Griffith on Indianapolis' far east side. Phil brought me up to speed on details of the report that were a couple years off, so I corrected those this morning before posting this new topic.
Phil found the following project photos in the interim. These were taken
in 1972,
40 years ago
this summer, while the
"restoration de jour"
was in full bloom.
Since the Hawk had not run over him in
The Great Brake Bleeding Incident
reported earlier, we were certain to follow
all appropriate safety precautions
when pulling the engine!
Here, at age 26, Phil's steady hand (and chain fall) deftly guide the 259 from its moorings in the Hawk's engine bay: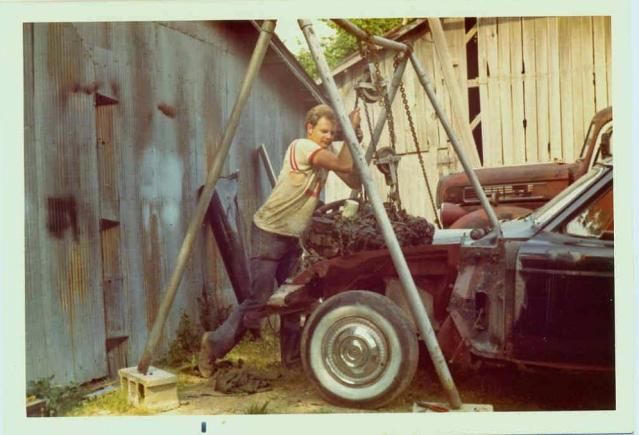 Yours truly took the above photo, so we traded places and I pronounced the engine properly removed a few moments later. ('Not sure what I was doing with the big bar; perhaps preparing to fend off any barnyard critters disturbed during the engine's removal.)
Same age as Phil; 26. He was born the day before I was born. So, chronologically, our "ages" are within 24 hours of each other...but he is the Senior Citizen of the two of us. In fact, for a few hours on February 10, 2011, in true CASO fashion, I had to accompany Phil to McDonald's so's he could get the Senior Citizen price on coffee before I turned 65 the next day!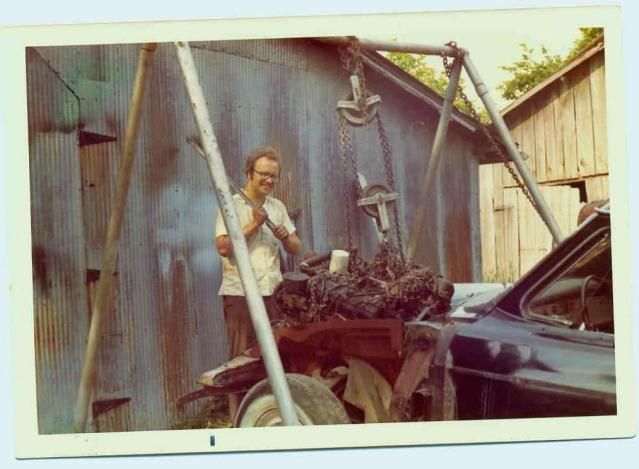 You can see that
all safety precautions received our rapt attention,
as evidenced by the diagonal chain bracing on the far side. It would have prevented the loaded "swing set" from swaying to the car's
left.
(As Phil observed, I guess we didn't consider preventing the swing set from swaying to the
right,
carrying the whole load into the truck parked next to the Hawk.
)
Yes, Phil did get the car done, and here he is with soon-to-be (a week or so later) first wife Elaine in 1973. (It had been a long weekend even though he won a class trophy with the Hawk, so they are kind of tired with the prospect of having to pack up and vacate the venue):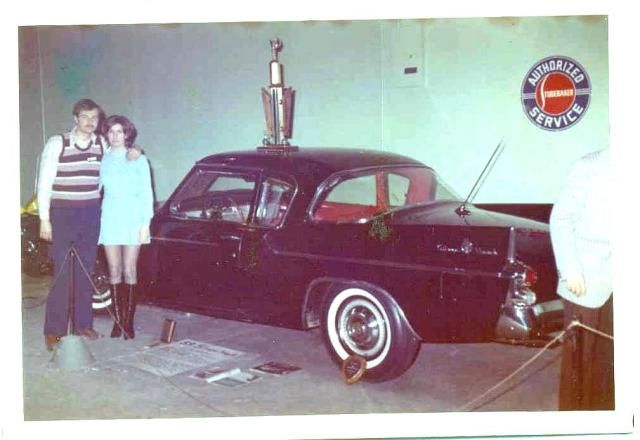 BP