Last update, I had discovered that the 259 that came with the Wagonaire had 289 pistons installed producing a compression ratio low enough that whale oil would have been an acceptable fuel
. I tore down that engine to make it right by installing a 289 crank, but ran into some other problems and it became tougher and more expensive than I wanted it to be to fix that one.
I remembered that I got a 259 from Roscowmacaw (Bob Kabchef) when I bought that purple 63 Daytona hardtop from him. I ended up putting a Chevy in that Daytona and the 259 became excess. I passed that engine on to Brian Curtis for a future project of his that never materialized and Brian still had it in inventory.
I retrieved it the other day much to Brian's delight (he was tired of tripping over it
). I pulled the heads and pan. It was in nice shape and relatively clean inside. I buttoned it back up but replaced the heads with the ones off off the motor I got with the Wagonaire. Both sets were nice, but the Wagonaire set looked fresher.
The transmission was also a problem. The one that came with the car was known toast, and the extra good one that Pat threw in turned out to be a Powershift. I could have made that work, but I'm getting lazy in my old age
. James Bell had a known good FOM and was happy to get it out of his shop and even delivered it along with a new filter and gasket and the J tools to adjust the bands. It looked good inside (a lot I know
). The bands are super easy to adjust with the trany out of the car and with the right tools.
The original bellhousing was still with the motor I got from Bob/Curtis so no dial in needed. I cleaned up and painted the motor, attached the trans and installed them in the car last week. BTW, I was dreading that installation job. It's a lot of weight, high in the air to clear the front panel and a real 3-D puzzle to get it in place WITHOUT chipping the paint in the engine compartment (A Chevy goes in much easier BTW
). In actuality, it took an hour start to finish, single handed, all bolted down, crossmember in. I don't know if it's good or bad that I'm getting good at this.
Today, I decided I'd better run a compression and oil pressure check before I got too far with assembly. Here are the results...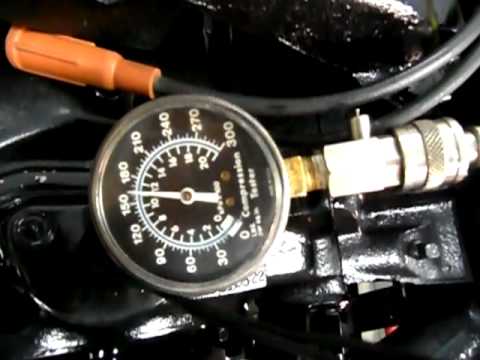 So far so good.
The radiator is at the shop being tested. I should be able to test fire the motor this week.
The rest of the chrome is on the way back from Jerry.
I'm dreading the expense of having a decent job done on the interior (I don't sew
)