Here's proof positive that imagination trumps money: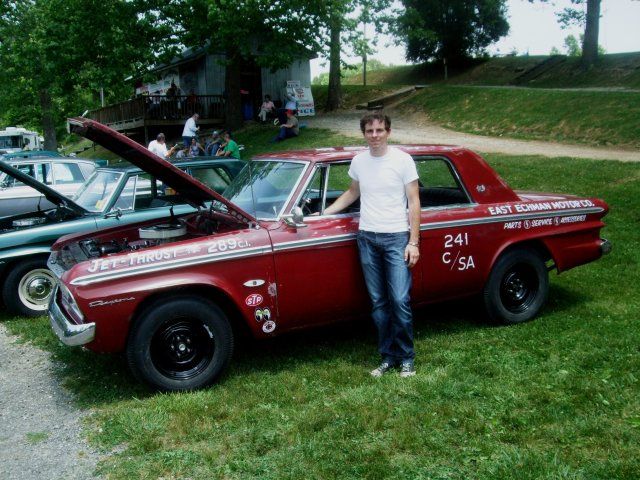 'Just got back from
The 2012 Studebaker Nationals and Orphan Drag Race
at Bean Blossom Indiana's
Brown County Raceway
. Well into the 90s all day, but we had about 18 Studes running and everyone had a good time.
We had about as many Studebakers from out of state as we did in-state...well, that might be exagerrating a little, but Wisconsin, Kentucky, and Tennessee were represented, and I may have missed one or two.
Easily the cutest Studebaker on the premises was Forum Member
Ryan Paturalski's
1964 Daytona hardtop. Ryan, shown above with his car, is
beatnik64
here on the forum, a 30-year old South Bend native now living in Tennessee.
Now, when you see Ryan's '64 from afar, or even up close, you are certain it is a dealership's old drag race time capsule that somehow survived decades tucked away in a garage gathering dust, and that Ryan was fortunate enough to find it and had the good sense to leave it alone and just clean it up and preserve the patina as best he could.
Wrong.
He'll gladly tell you he created the car when he bought it several years ago sight-unseen and it proved to be less than he expected when it arrived. He planned a full restoration but knew he could not afford that after inventorying the car. Rather, he
thankfully
had the creative idea you see above. He's not bashful about telling you what he did, and he's to be commended for taking such an imaginative approach, creating a car that likely draws more looks and smiles than a fully-restored "ordinary" car.
The Daytona's paint was assorted and weak, so Ryan began by
wet-sanding the whole car
with 1,000 paper and then
leaving it alone,
having produced a dusty, shop-and-age-worn look, including areas you'd swear had simply been buffed through over the years.
He then enlisted the help of a sign-painter friend to come over and letter the car as if it had been lettered in 1964 and then left alone, the lettering left to age with the rest of the car. The sign-painter buddy did a beautiful job; you have to be right on top of the car to wonder if that lettering isn't decades old...and even then, you're not too sure it isn't.
Ryan was raised at
241 East Eckman
St.
in South Bend, so that's where he came up with the name of the "sponsoring" dealership....and the car's
241
number. I'm not sure if an R1/Flightomatic (which it is) Daytona hardtop would have run
C/SA
in 1964, but that's what Ryan "figgered."
(Yes, the name ECHMAN is misspelled with an
"H"
instead of a
"K."
'Seems as though Ryan printed the name of the "dealership" for his buddy to paint, and Ryan admitted that his printed
K
looked too much like an
H,
so he didn't blame his sign-painter buddy for the mistake.)
Obviously, Ryan doesn't have 'near the money in this project that a full-blown conventional restoration would have required
....so a tip of the old 'Stetson to Ryan for the creativity that made lemonade when he was given a lemon...if I may so interpret his assessment of the situation!
Well played, Ryan; that's a real sweetheart.
I'll bet most of us hope you leave it just as it is. It was nice meeting you and hearing "
the rest of the story."
BP