I finally had to give up on the body work on the 74 Avanti. After several days of fiberglass work and scraping paint my body said "enough of this craziness in 80-90 degree temperatures in Michigan in March".
So I retired to the pole barn with the 30" fan providing cooling and started progress on the 383 stroker SBC I picked up last fall.
A bit of background. Last fall I was told of a 383 SBC that a fellow had assembled a couple of years back to put in a Firebird. Apparently no amount of tuning could get the vibration out of the engine nor yield any drive ability. The owner was so disgusted he had let the car and engine go cheap. I bought the engine from the fellow that bought the car to restore his Firebird. No one wanted a suspect engine so I picked up for $400. I figured how bad could you get burned as the block and crank are worth that much.
Started to take it apart and I was not encouraged by the overall assembly of the exterior parts. Hammer marks on the balancer, a stripped thread or two in the block. It looked like Fred Flintstone had assembled it.
That all changed when I rolled it over on the engine stand and pulled the pan. Everything inside looked like a tool maker had assembled it. All the clearances were milled with no hand grinding, there was a beautiful crosshatch on the cylinders and the bearing, rod and mains, miked out perfectly as did the crank movement.
So what caused the issues? The lower timing chain gear had no key in the keyway, I guess that would make it tough to hold timing and the harmonic balancer (original 400 SBC as required) was a POC with major deterioration.
I've made some changes to make it a torque delivering street engine as top speed to me is irrelevant.
Specs:
-1972 010 suffix 350 cu in. block with 383 kit installed
-heads early 70's 400 SBC series with light porting and 2.02 X 1.60 stainless valves
-compression 9.95:1
-Intake is Weiand Street Warrior
-cam Lunati VooDoo hydraulic lifter
So this is how it sets today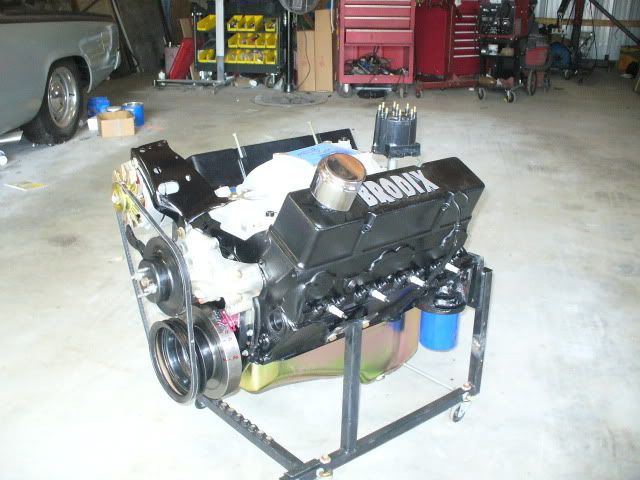 You may note the presence of the Small cap HEI distributor, which is an indication that this engine will have an aftermarket EFI setup. I'm currently happy with the Holley Avenger HP on the 83 but I've still got several months to make my decision as there many newer unit on or near the market.
Bob