I've been out of town for a couple of weeks and progress on the Wagonaire has been slow.
While in California, I did stop by Pat Drnec's place and picked up some parts. I gave Pat little notice that the carrier would be picking up the car when I bought it so some Wagonaire parts remained behind. Besides the parts, Pat bought lunch
.
One of the items were these OEM seat back upper portions with the Lark emblem...
Pretty nifty and an incentive to do a stock interior.
I also stopped by Bob Peterson's place for a visit with Bob and was able to knock several items off my shopping list. Thanks, Bob!
I was at Mike Galbeck's (
Studebakers Northwest
) yesterday for some more parts including wheel cylinder kits and seals. Thanks Mike.
I am in the process of rebuilding the rear brakes and servicing the rear wheel bearings.
I did throw a bumper on the back to get it off the shop floor (although I didn't get it very straight). It's a front, but looks pretty good on the back. I like how the Lark bumpers are in tight to the body. If this car was going to be a hot rod, I think I'd use a front bumper on the rear to eliminate the little guards and license lights...and use these...
License Mounting Bolts / Lights
I used them on my black '54 Starliner to eliminate the rear guard...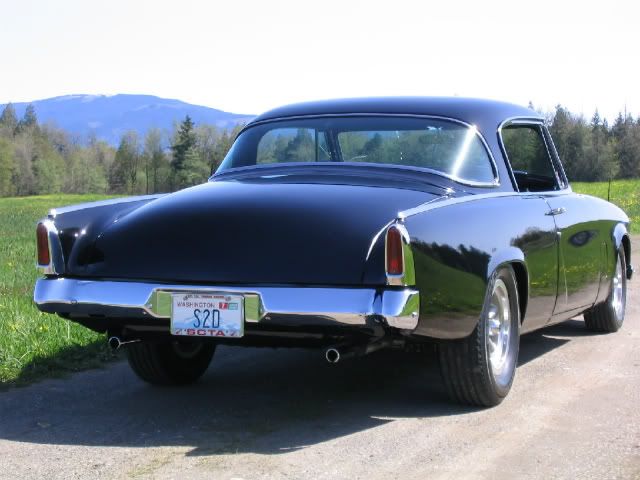 Anyway, here's the rear...