A few days ago there was mention of not enough pre war cars being shown , well here's a couple Ontario cars from a few years ago . Both shots were from Ontario Chapter meets , back then we used to have some very big meets and I often wonder what ever happened to alot of these cars ......some have just disappeared but these two are still out there.
The 1st set of pictures are from the Ontario summer meet held in London . On in 1991, this car was restored by Ray Martin , he did a fantastic job on what was mostly a piece of junk by most standards. If one went to the past International in Springfield you would have seen this car, but the current owner did not restore it.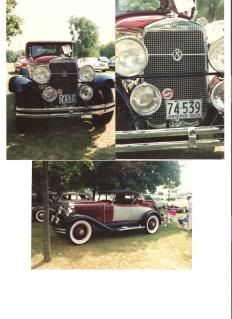 The second set here is a very rare car , this picture was taken at the Ontario Can/Am meet held in Fort Erie in 1993 , this car then was owned by Mike Morris , this is the way he found the car . Some may recognize the car , it was in the Studebaker museum for a few years in the late 90s. It still resides in Ontario in a private collection.