A couple months ago, I posted this "Photo Essay" thread about old dealership buildings in and around Paris IL, where my father's dealerships sold, at various times, Packard, Nash, Studebaker, and Kaiser.
http://forum.studebakerdriversclub.c...ht=photo+essay
Everyone seemed to enjoy it and so, today, when I had occasion to be closer than usual to Paris, I took my camera along to finish the job, because there were a few buildings and sites I'd missed a couple months ago.
So pull up a chair and java or brew and follow along, especially the suprising, unbelievably-odd connection to
Gary Ash's 1932 Studebaker Indy Race Car
project most of us have been following.
First off, we are talking about Paris
Illinois,
not France, a small town halfway downstate from Chicago in Edgar County IL, bordering Indiana. This is the population sign today, sorry to say, because it was a bigger sign and boasted of
10,500
inhabitants (IIRC) when we moved there in 1953!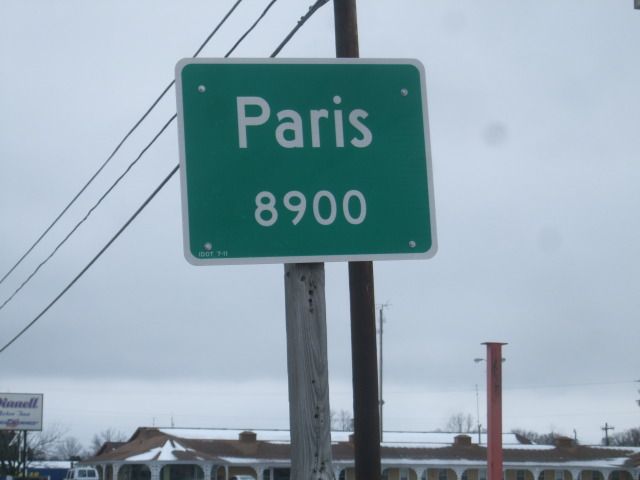 A mile south of that sign on Illinois State Road 1, you come to a convenience store and gas station directly across from the entrance to the town park. This business didn't exist in 1953-1955. Rather,
this same plot of ground was the dusty, unpaved Used Car Lot of Palma Motors: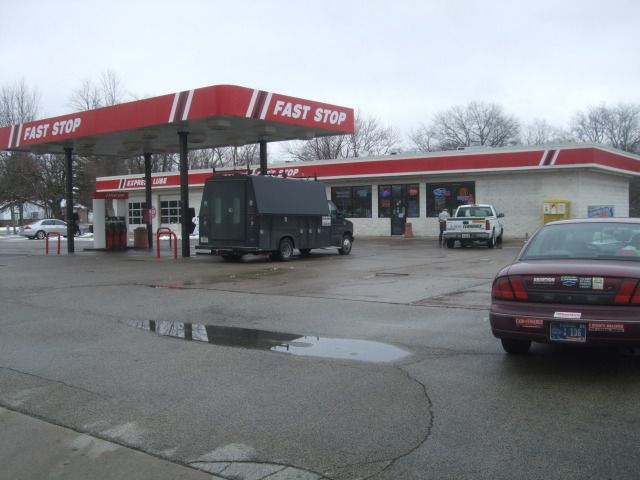 Immediately south of the above facility, sharing a property line with Dads used car lot, was an unusually-large, fancy
Harley-Davidson
motorcycle dealership...
in the '50s!
Here's what that "Harley" shop looks like today (also see another photo in Post#5 to this thread, below):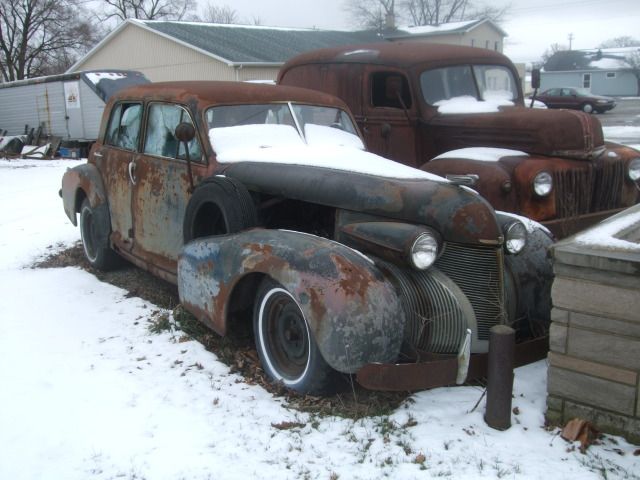 Hmmm....now here's where it gets interesting!
Note this forlorn race car out front of the old Harley Shop: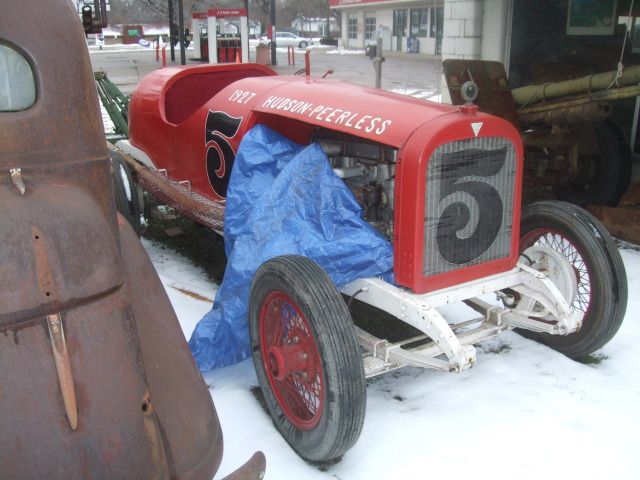 That is a bit of a clue as to
what's really going on
in there now. The place, you see,
is a real fooler.
This is the very facility where much of the fabrication for Gary Ash's replica 1932 Studebaker Indy Race Car was accomplished within the last year!
Yes, the proprietor is of such renown that Gary solicited his services all the way from Massachusetts...and was well-pleased with the work.
Talk about not judging a book by it's cover!
I had sort of prepared Gary for what he would see when he got there, but I am sure he was still taken aback. Perhaps he will post his reaction and other information here.
<GGG>
Just south of the "Harley" shop, but still on the north side of Paris, is the
Edgar County Fairgrounds,
on the same [east] side of Illinois Route 1. In 1955, Dad had a 1955 Rambler Cross Country wagon to serve as Pace Car for the horse races on this track:
I was able to sneak into the grandstands today, 57 years later, and took this photo from a slightly elevated position, looking toward about the same area of the fairgrounds track as where the 1955 photo was taken: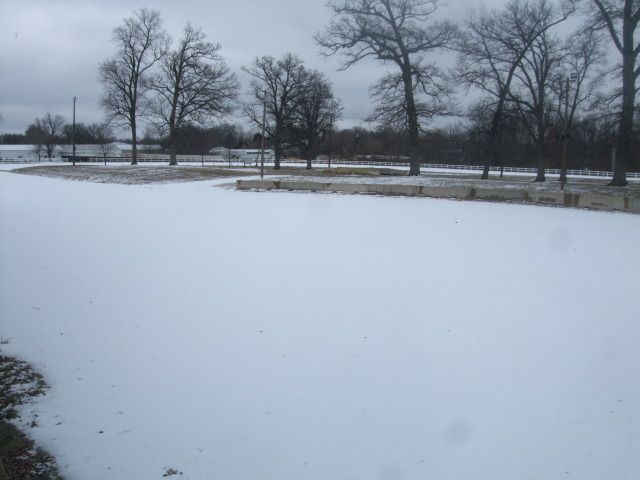 I remembered two additional, extant old dealership buildings I hadn't photographed in our December 2011 adventures reported in the earlier thread, so here they are.
This was the Ford-Mercury dealership
Body Shop
(correction; I remembered it as the dealership proper, but the showroom and such was a block and a half away from here, around the corner on Main Street)
until about 1958. IIRC, their Used Car Lot was west of this building, which is to the right of the photo with a since-placed small storage unit on site where used cars had been sold):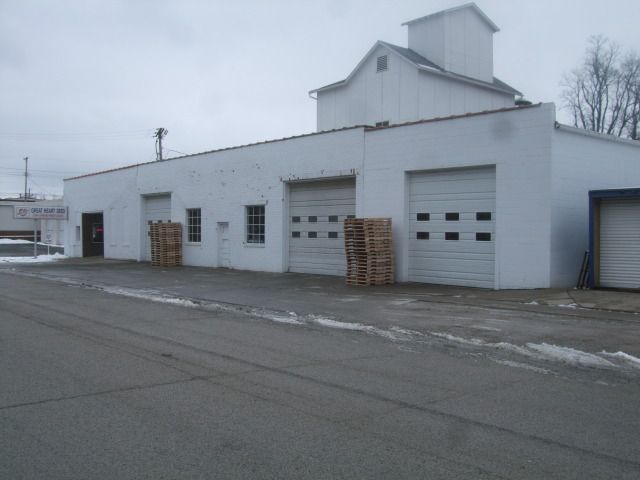 When
Bishop & Gross Ford
moved from the above building, they moved to an all-new facility on U.S. 150 in Paris' southeast corner. What little I know of the disposition of that wonderful, extant facility I discussed in the other thread: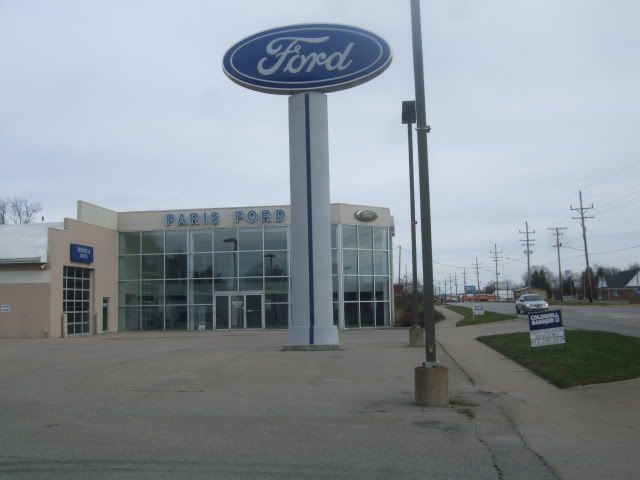 Almost directly across the street from the original Ford-Mercury dealership in "downtown" Paris is this building, which was the Buick & Oldsmobile dealership when we lived in Paris 1953-1962. As you see, the showroom was on the far end of the building from where this picture was taken: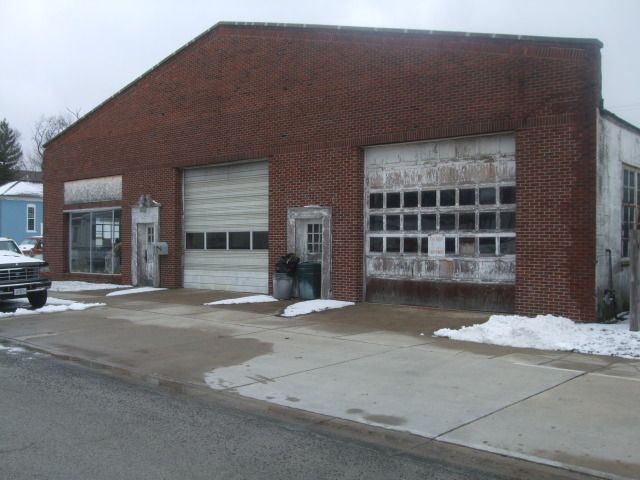 Today, there are only two new-car dealerships in Paris IL, both owned by the same fellow. They are adjacent to each other on the far SE corner of town on U.S.150, east of the defunct Ford facility.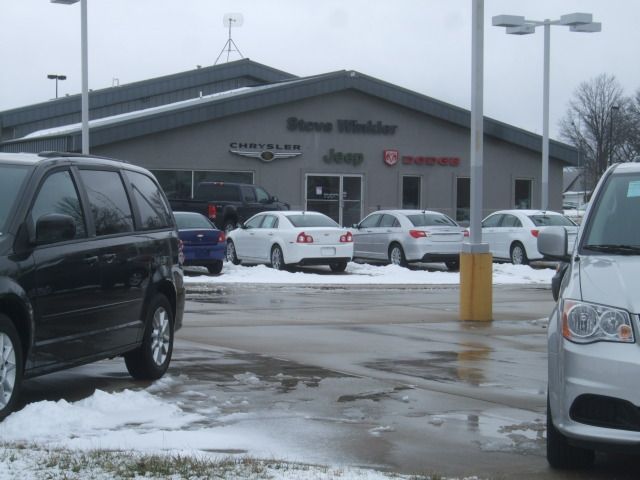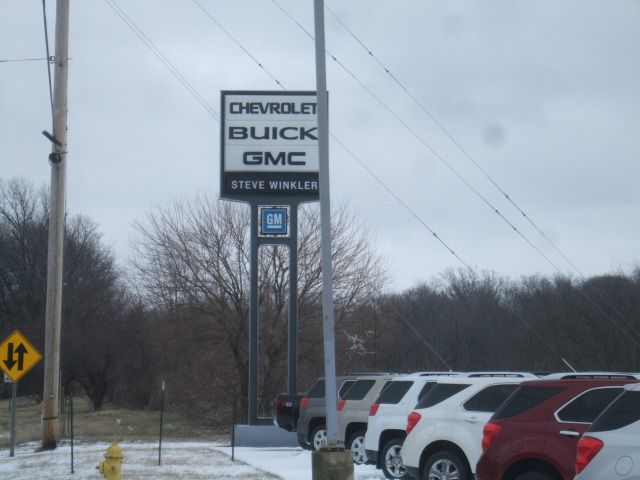 Speaking of
Fords,
if you live in Paris and want to buy a Ford, the nearest dealer is 11 miles north of Paris in little (population 3,300)
Chrisman IL: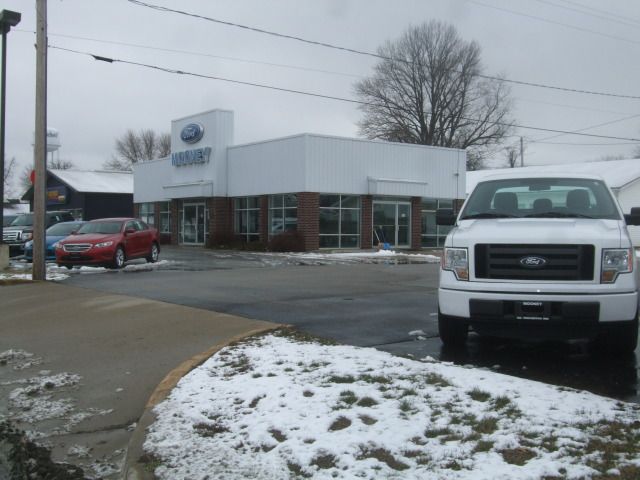 In fact, that Ford dealer is so small the door was locked and a sign said,
Out For Lunch, will return at 2 PM
when I was there at 1:20 in the afternoon! No matter, they only had two vehicles on the showroom floor anyway, a gorgeous 1966 Thunderbird convertible and a Model T truck of some sort: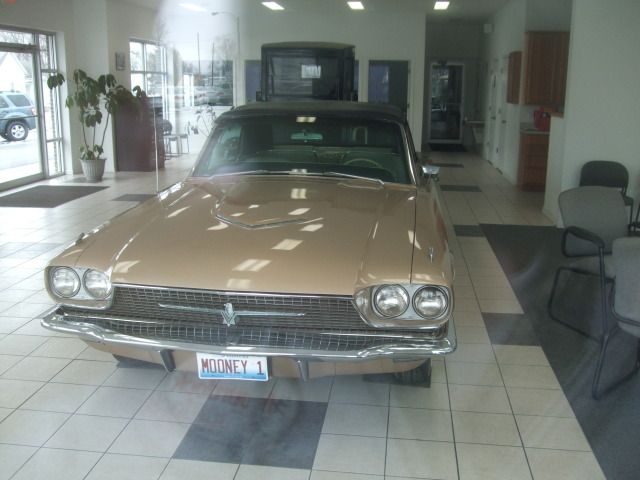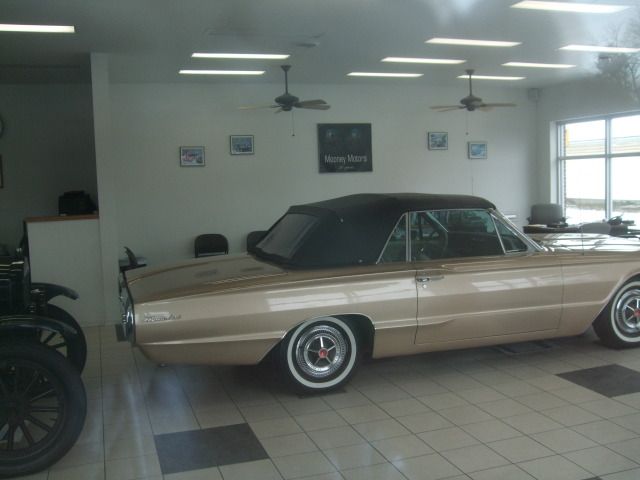 Geeze, what a way to run a new-car dealership, eh?
Well, the name of the place is
Mooney Motors
, and the Mooney family owns many dealerships, Ford and otherwise, in the area, so I imagine they write their own ticket with Ford. They've been successful Ford dealers since 1953, when they opened their first store, this one in Chrisman.
(Ironic that they opened their Ford store the same year Palma Motors was opened 11 miles south in Paris!)
Overall, another fun day with a good
Studebaker
connection...I mean,
it's over 1,000 miles from Dartmouth MA to Paris IL,
so I'll leave it to
Gary Ash
to tell us how he found a race car fabricator he wanted to use in the old Paris, Illinois' Harley-Davidson dealership building!
'Sure beats me...small world, eh?
BP