If all goes as planned, this will be yours truly's
10,000th Post
to
The Studebaker Drivers Club Forum.
I noticed it creeping up about a month ago and have been paying attention since, just for fun.
Coincidentally, next month will mark the 50th Anniversary of attaining my Drivers License so I could legally
drive
Studebakers...and anything else, for that matter.
The operative word is
TEN
, so to celebrate the occasion, I thought I'd reflect on
The Ten Most Significant Studebakers
in my life
BEFORE I HAD A DRIVERS LICENSE!
In fact, most of the ten had come and gone
before I turned 16,
although one of them survived the 16th birthday and became
the
Studebaker I most drove in high school.
Before we get started,
Honorable Mention
goes to the
First Studebaker
I ever remember, period. Honorable mention because I
never saw the whole car
(!),
never sat in it
, and
never rode in it!
That would be Grandfather "Jedda" Palma's mid-1930s Studebaker coupe of some sort, IIRC. I probably saw it in 1950 or 1951 at age 4 or 5 when visiting the family farm in North Judson IN. It was tucked in a "Model T" garage, such as they were at the time, and all I ever saw was the tail of it sticking out the back of the garage. It seemed too long for the garage. It was dirty and painted a horrid green with a brush, as legend had it.
Other than walking by Jedda's old car and seeing it there, I have no further memory of it. Cousin George Krem, being four years older than me, doubtlessly has better memories of the car and may post to this thread as he sees fit.
So to celebrate
"Ten on Ten Thousand,"
please pull up a chair and a cup of java or brewski and join me in a trip down
Pre-Sixteen Studebaker Memory Lane:
Studebaker #1 was a direct result of this conglomerate merger on June 1, 1955:
That is self-explanatory and resulted in my father and his brother Milton doing their own little kind of
OSD
(
O
ccupy
S
tudebaker
D
ealer) when they joined Studebaker dealer Harry Rhoads in this building: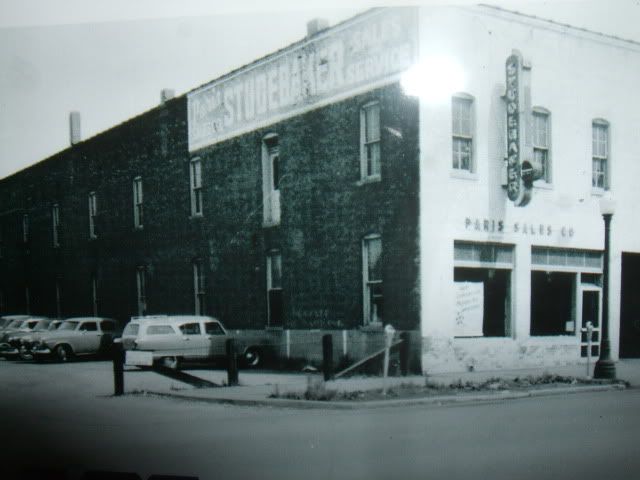 The above photo was taken in late 1953 or 1954, when Harry Rhoads' Studebaker dealership was known as
Paris Sales Company.
The name changed to
Palma-Rhoads Motors
on June 1, 1955.
They moved from this building to join Harry Rhoads:
Joining Harry Rhoads accomplished at least five things, all of them good:
1.
Harry didn't need all the space he had, and couldn't afford it.
2.
Harry needed operating capital. 1953 and 1954 had been tough years on any Studebaker dealer despite the product's beauty, and a small-town dealer could be hit pretty hard.
3.
It moved them to a busier street, Central Avenue.
4.
It allowed them to have the used car lot right next to the building, as opposed to their previous satellite locations a couple miles away that had always presented their own problems.
5.
It gave Dad and Uncle Milt about three times as much square footage, which they needed.
And it also furnished me with Significant
Studebaker #1
of 10:
1.
A brand-new, lemon-lime
1955 Speedster.
The Studebaker "road man" brought the car by in late June or early July and parked it right out front, below the above showroom window where it says Paris Sales Company in the first photo. I was 9 years old at the time. I was invited to go along on a ride! Uncle Milt drove; Dad rode "shotgun." I hopped in the back seat right behind Uncle Milt. The Studebaker road man, of which I have no memory compared to that cool Speedster, sat in the other side of the back seat.
We charged up Illinois Route 1 north out of Paris as chronicled on Page 32 of the March 1995
Turning Wheels.
2.
Studebaker #2

was this one:
As you can see, it is a rather loaded
1956 President 2-door;
black with white side spear and white halos around the side windows. I remember this car because it was
the
1956 Studebaker displayed on the showroom floor the day the 1956 Studebakers were introduced, whatever day that was. (Note that it was Body #51, certainly an early '56!)
Note the Salesman's initials:
LSP.
That indicates it was my father who actually sold the car to Mr. Fechtig.
It was the same as the 1956 non-Hawk brochure catalog car, save the front bumper guards:
The showroom below those letters
Paris Sales Company
(by then gone, of course, due to the name change) was really only big enough for one car, but you could squeeze two in and it wasn't terrible. This President was on the south side of the showroom and I remember sitting in it, still age 9, running the 2-way power seat back and forth until, for some reason, it started going slower and
s-l-o-w-e-r.
Hmmmm....
Oh, and the car displayed next to the President was a 1956 Nash Statesman 4-door. Needless to say, I recall little of it.
3. Studebaker #3
was this famous
1956 Golden Hawk:
I redacted the key numbers because this car is accounted for, fully restored to an SDC First Place at the 2002 South Bend International Meet, and owned by Idaho SDC Member Pat Doherty.
I remember this car when it was brand new, sitting in the Service Department at Palma-Rhoads Motors awaiting delivery. I remember taking in the wonderful smell of the new red leather with which it was equipped while I was sitting in it in late March, 1956. By then, I was ten years old.
A complete report of this car is on Page 14 of the November 2002
Turning Wheels.
(No more pictures from here on out, I'm sorry to say.)
4. Studebaker #4
would be our family's turquoise and white

1957 Commander DeLuxe 4-door

sedan. We moved from Paris back to Oak Park IL for about nine months (it's a long story) from fall 1958 through summer 1959. I turned 13 years old while we lived there.
While living in Oak Park in the winter of 1958 into 1959, Dad decided we needed a better car than the 1953 DeSoto Firedome (yes,
"it had a hemi"
); the family ride we brought up from Paris, so we went car shopping. I accompanied Dad to at least a dozen dealerships in Chicago and the western suburbs, looking at cars.
We wound up at Gorman Studebaker in Oak Park, where I got to look over the new 1959 Larks on the showroom floor while Dad traded the DeSoto toward this nice, two-year old, two-tone Commander with Flightomatic. When we moved back to Paris the following summer, I looked at the back end of that '57 all down the eastern edge of Illinois because I rode with Dad in our second car, a 1951 Kaiser 2-door, while Mom drove the Commander in front of us with my two younger brothers in it.
5. Studebaker #5
would be a family treasure, the
1957 Silver Hawk V8
with overdrive my Dad's youngest brother, Jerry, bought new in LaPorte IN in 1957. When Jerry went in the Army, I was 14 and the car was left with my Dad for care and feeding. Dad took me out on the back roads around Paris and essentially taught me how to drive in Jerry's Hawk...and, somehow, the clutch survived.
The complete story, with period photos of Jerry and his new car, is on Page 11 of the August 1998
Turning Wheels.
6. Studebaker #6
would be the only bullet-nose-era Studebaker with which I would ever flirt; a reasonably-nice, aqua,

1952 Commander Starlight Coupe

with overdrive, circa 1960. At the time, I was still 14 and had a morning

Chicago Daily News

newspaper route in Paris.
For weeks, my return home from the end of my route took me past a vacant lot on North Main Street in Paris. On that lot sat this decent Commander Starlight for sale;

$75!

Every day for weeks, I'd stop and look at it in the early-morning mist, and get in it and play with the controls, since it was unlocked. But $75 might as well have been $7,500, and I was two years away from having a drivers license, so all I could do was dream.
'Neat old car, though...and then, one morning, my lust turned to dust: It was gone.
7. Studebaker #7
would be the most famous one of these top ten, and the one that survived my early, legal driving: The family's

1957 President 2-door

sedan in Coppertone with White quarter-panel coves. A pretty car with no radio...but a 4-barrel carb (optional on non-Classic 1957 Presidents) and Flightomatic.
I was with Dad in mid-March 1960 (just turned 14), when he went across the state line from Paris IL to Terre Haute IN, to trade the 1957 Commander toward a couple cars he decided we needed. He still knew some dealer buddies from "the business." I would later understand why we went out to a farm south of Terre Haute to look at a Chrysler-Plymouth dealer's inventory on the grass, hidden behind a barn!
That didn't make any sense until I learned later in life that Indiana automobile dealers were taxed on their inventory in stock on March 1 of each year. Hence, it behooved a dealer to hide everything somewhere,

anywhere,

off the premises while "the count" was tallied for The Tax Man.
Anyway, we returned to Paris with a medium-green 1959 Chrysler New Yorker 4-door sedan for Dad to drive...and since his buddy had made him such a good deal on this decent, 3-year-old Studebaker President 2-door, Dad bought it, too!
The President would serve us well and even accompanied us on our move to Indianapolis in July 1962. By that time, I had my legal drivers license and drove the President 2-door quite a bit. I think Dad became suspicious of how enthusiastically I was driving it, so one day I came home from high school in Indianapolis and it had been sold.
Phooey
. I really liked that President.
We published a fuzzy 1963 photo of me and that '57 as a
Co-Operator
masthead photo in
Turning Wheels
many years ago, but I can't remember which one right now, nor can I locate the photo here to reproduce. Sorry.
8. Studebaker #8
drove me nuts in spring 1961; a brand-new, bright red,

1961 Lark DeLuxe 2-door

with V8 and overdrive! We still lived in Paris, but there was no longer a Studebaker dealer in Paris because Harry Rhoads went out of business in June, 1960.
Rather, this new Lark was sitting on the showroom floor of Johnny Moore Studebaker in Terre Haute. Dad was tired of the 1959 Chrysler New Yorker after one year, so he and I had returned to Terre Haute to shop for yet another family car! Johnny Moore Studebaker was just a couple doors down from the Buick dealer in Terre Haute, where dad had stopped to see the old dealer friend who owned the Buick store.
Dad and I wandered down to Johnny Moore to see what used cars he might have and
There It Was:
That new Lark V8 2-door with overdrive right on the showroom floor! I drooled to the point of dehydration and all but got on my knees begging Dad to buy it, promising everything short of my left n*t if he would just buy that cool Lark! Cousin George would be
soooo
jealous!
<GGG>
Well, anyway, that is when Dad uttered one of his two famous quotes I carry with me today:
"Bob, I was a missionary long enough."
As I figured out on my own, that meant he had promoted and sold the independents long enough in the 1950s, and did not consider it necessary to keep carrying that torch.
We went back to the Buick dealer and traded the 1959 Chrysler toward a white 1958 Cadillac DeVille convertible with black top, red interior, and
factory air conditioning!
Man, was that weird, I thought; an air-conditioned convertible! Who would ever do anything so stupid as to have an
air-conditioned convertible!
Well, ignorance is bliss...and I had to wave good-bye to the new, red 1961 Lark DeLuxe V8 2-door with overdrive in the window of Johnny Moore as we headed back west to Paris.
9. Studebakers #9 (and 10)
take us north of Paris to my #1 accomplice in All Things Studebaker, my older cousin George D. Krem. George is best known to most of you as the original owner of The Plain Brown Wrapper; his 1964 R3 Challenger 2-door. But that was after I was 16 years old, and this discussion is confined to pre-drivers-license puberty.
Anyway, in the years immediately before I turned 16, George had as his own personal car, a
1954 Commander DeLuxe Coupe
with overdrive. It was light green with a dark green roof; a very nice car he drove back and forth from Roselle IL to Wheaton and Wheaton College. When I visited George many summers for a week or two, we might take his '54 out and about.
But more likely, we would take:
10. Studebaker #10.
This was one of my favorite Studebakers before age 16, a car that George's father, George Krem, ordered new in the spring of 1960:
A cute-as-a-button

1960 Lark 2-door sedan

in Colonial Red with Power Kit 259 and straight three-speed! Man, that thing was almost as fast as I think it was. George and I spent hours in and around that car, his tearing up the streets around the far western Chicago suburbs while I wished I was old enough to drive...but I don't ever remember running into Forum Member Jeff Rice, who lived in Roselle's neighboring town of Itasca with the 1961 Hawk his father bought new.
Well, that reviews my whole Studebaker life
before I got my drivers license!
If I get to 20,000 Forum Posts, maybe we'll pick up from age 16 forward.
'Hope everyone who got this far found this an entertaining
10 for 10,000
review.
Onward.
BP