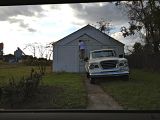 My future workshop is located in the area of town known as NoMo (North of Morrison Dr.) Across the street is a 1920's Esso office bldg. that has been slated to become an artists' colony. I gutted our bldg. a few years ago with the aid of the '64 Champ. It has a 289 4bbl & 3 speed OD. It has since been sold & has been painted red. My new truck is a '63 with a 259 4bbl Edelbrock & A T.
Today I whitewashed the front & painted the address on the bldg. We're planning a yard sale Dec. 10 to help raise funds for renovation. Doors & windows would be a much needed improvement! Our sale includes vintage door knobs (crystal & porcelain) shutters, transoms, lamps, garden gates & more.
Behind this 800 sq. ft. bldg sits a 2 storey block bldg. about 1200 sq. ft. Old maps show that this was a post Civil War subdivision with 12 houses front to back with shared outhouses. We had the last 2 houses demolished after they had fires. Our bldgs. are circa 1950.