This was my last weekend to get my 52 Commander ready to take to South Bend (One way or another!). There was an AACA car show Saturday and since I am a member, I needed to be out there and help out. I really wanted to stay at home and work on my 52, but I felt obligated. I took my Daytona and put it on the show field around 8:30. Around 10:00 there was an announcement that my gas tank was leaking and I needed to get it off the field. The rubber hose from the gas tank to the metal tubing had deteriorated. I drove it home and put a new rubber line on it. Unfortunately, I had just filled it with gas!.
I think the Daytona knew that I wanted to be home and did it on purpose!
After I repaired the gas leak, I started working on my 52. I installed the seats and rear carpet, installed all the window frames which was a pain trying to locate the screw holes.
Sunday, I washed and used rubbing compound on the 52, then I waxed it. After that I put my new wheels and tires on it. The camera really makes the paint look much better than it is.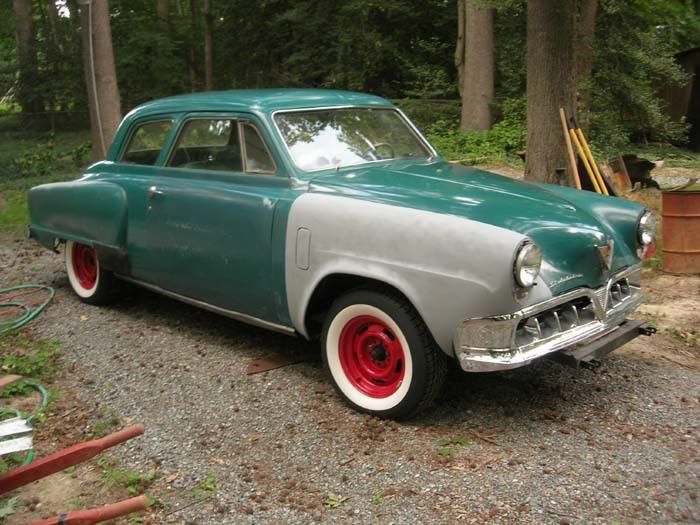 I also put wheel covers on it to see what it would look like. I also have 56 Olds flippers, that I will probably use.
After I had done all that, I decided to drive it over to Tom's house which is 20 miles away. I had never driven it that far before. I was surprised that it rode so well on the interstate. It was smooth and seemed to hold the road. But the valves were making noise.
Tom adjusted the valves and the carburetor. I don't know what I would do without him!
Tom drove it and punched it in all 3 gears. I never had done that. It ran strong, but the column shift has to be handled very slowly. I might change it over to floor shift, but I really love the 3 on the tree for some unknown reason.
It was a good weekend!
Leonard Shepherd
http://leonardshepherd.com/