Danville IN is the county seat of Hendricks County, the first county immediately west of Indianapolis. Danville merchants stage a
First Friday Car Show
around the courthouse square on the
-surprise-
First Friday of every month during the summer.
This evening (Friday, October 7) was the final
First Friday
show for the year. Indy Chapter general all around good guy, promoter, and
Pure Stock Muscle Car Drag Race
competitor in his 1963 R2 Avanti,
Chuck Kern
, volunteered to arrive early and block off a section of the street's parking spaces so's the Indy Chapter SDC could invade this evening's
First Friday
event. Chuck and wife Linda arrived early, blocked off eight spaces total, and we had exactly eight of the Chapter's Studebakers show up!
(Can this guy predict or what?)
Here,
Chuck's
cute Champ stake bed defines the southern end of Studebaker Row:
Lanny Bertram's
gorgeous factory R2/4-speed 1963 Lark Custom 2-door was on hand. It was fresh from the report and picture of it's First Place Springfield Win on Page 47 of the October
Turning Wheels
: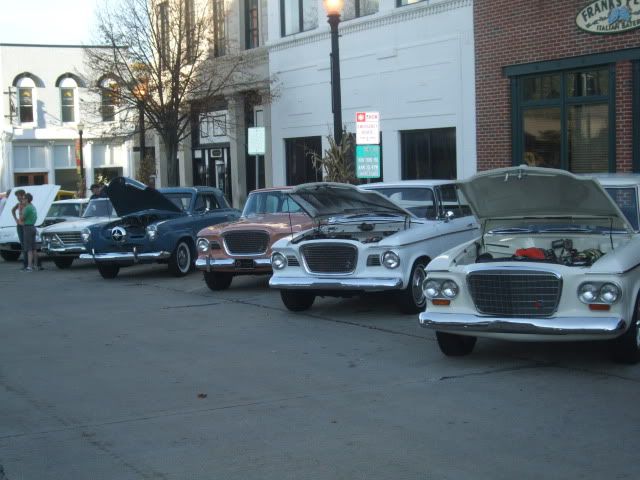 Chuck Kern's 1963 R2 Avanti brought up the north end of Studebaker Row: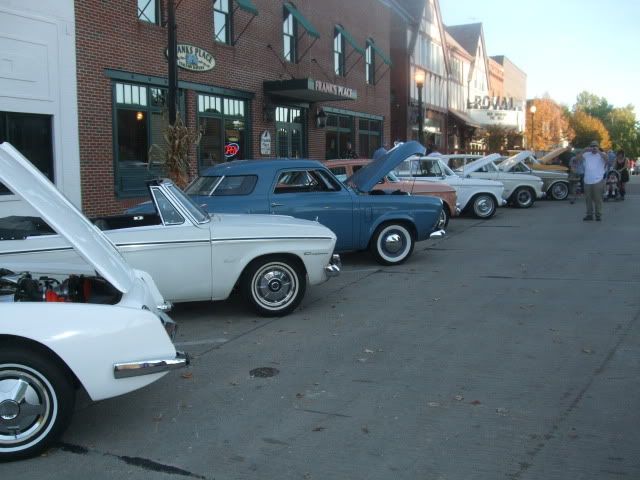 The selection was varied to such an extent that you can figure out which car belongs to which member just by looking at the photos:
1963 R2 Avanti: Chuck & Linda Kern
1964 Daytona Convertible: Bob Palma
1950 Champion Starlight Coupe: Howe Clark
1959 Lark VI Regal 4-door (Tahiti Coral): Dave & Diane Elmore
1959 Lark VI Regal hardtop: Bob Parker
1963 Lark Custom 2-door: Lanny & Barb Bertram
1957 Golden Hawk: Tom & Judy Lawlis
1963 Champ stake bed: Chuck & Linda Kern
The weather was simply perfect and the crowd was large; I had to wait some time to take photos without people around the cars. These were taken fairly early; by 6PM, it would have been impossible. There were over 60 cars parked around the town square and hundreds of folks took advantage of a wonderful evening to come "uptown" and see the cars. Good Studebaker exposure with a nice selection of our "favs."
And we all learned something:
One fellow came up and, while checking out Tom Lawlis' Golden Hawk, gestured toward the fins. The visitor then went into great detail explaining to us that the fins came off the car and
-surprise-
the rear fenders underneath were the same as earlier Studebakers with the same body style;
that the fins and fenders weren't one and the same piece!
Most of us agreed that learning about the fin/fender assembly was worth the entire evening's time all by itself. <GGG> BP