Many SDCers know that
The Boilermaker Special
"locomotive" is
The Official Mascot
of
Purdue University.
Many on the forum further know that the first Boilermaker Special, BMSI, was built on a brand-new 1939 or 1940 Studebaker Champion Chassis donated by Studebaker Corporation. (No one seems to know which model year chassis was actually donated and I am yet to research the matter in The Studebaker National Museum archives.)
Studebaker's donation was shipped downstate to Lafayette where "The Monon Shops" of Indiana's Monon Railroad built an attractive locomotive-looking superstructure for it. The resulting Studebaker-based
BMSI
was dedicated in 1941: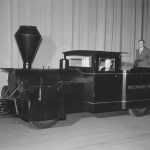 BMSI
in 1950, on the Studebaker chassis: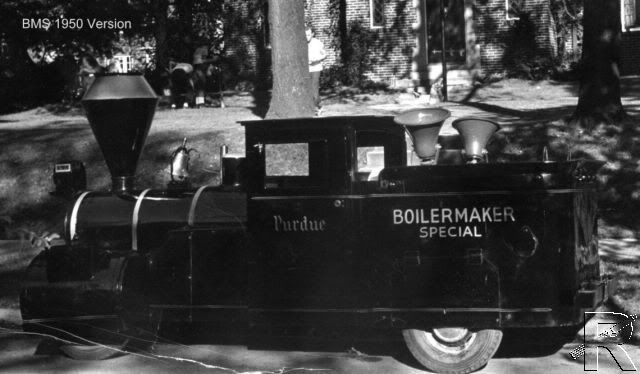 Fooling around on campus with Studebaker-chassied
BMSI,
circa 1950:
BMSI dedication.

(

Dick Quinn

: Are either of the two gentlemen on the right from Studebaker? I believe I know the two men on the left as being from Purdue, but do not want to hazard a guess as to their names or titles without knowing for sure.)
In any case, the Studebaker Champion chassis proved too light for the endeavor and was pretty well worn by 1952. Sometime around 1952, the superstructure was placed on an International Harvester truck chassis. International Harvester / Navistar chassis have been underneath all subsequent Boilermaker Specials
except
BMS III, which was built on a GMC truck chassis and [under]powered by the GMC truck V6 of the early 1960s.
The superstructure has been replaced several times with larger units as the mascot has been enlarged through the years.
This may be either BMSI on the Studebaker chassis, or BMSII on the post-1952 International Harvester truck chassis. The superstructure was the same, so unless a photo is dated, you can't tell which is which. This photo from The Reamer Club archives is undated:
Caretaking and "custodianship" of all Boilermaker Specials has always been entrusted to
The Purdue Reamer Club, "The Spirit of Purdue."
This is an ongoing student organization first created in 1923 for the purpose of promoting school spirit. As such, The Reamer Club was a natural to attend to the care and feeding of the school'
s official mascot.
I was proud to be asked to join The Purdue Reamer Club for my junior and senior years at Purdue in 1967 and 1968. At the time, club membership was by invitation only and restricted to junior and senior men.
My roommate at Purdue in 1968 was
Don Armbruster
from Lawrenceburg IN. "Army" was also a member of The Purdue Reamer Club and remains a good friend to this day. He's not a "car guy;" our friendship centered around a common interest in promoting Purdue through The Purdue Reamer Club. In fact, he was President of the club while I was
-surprise!-
Corresponding Secretary.
On Senior Cords Day in the fall of 1968, Don and I were photographed together in front of the then-current
Boilermaker Special III
at the south end of the football stadium:
Fast-forward
43 years
to Fall 2011.
The newest
Boilermaker Special
, number
VII,
was to be dedicated and commissioned today (Saturday, October 1, 2011) at Purdue. Reamer Club alumni were invited to a luncheon for the ceremonies. Don and his wife Janet live 50 miles west of Cari and I, so we try to get together with them once a year to get caught up. This was an excellent opportunity to do so, so we all traveled to Purdue together for the event.
Both Don and I still have the Senior Cords we wore when the 1968 photo was taken, but they seem to have
-ahem-
shrunk and no longer fit. Don lost his "pot," the unique hat each Reamer has that is festooned with buttons of each member's choice. However, I still have mine.
So we took our Senior Cords today and restaged that 1968 photograph
43 years later
in front of the new
Boilermaker Special VII: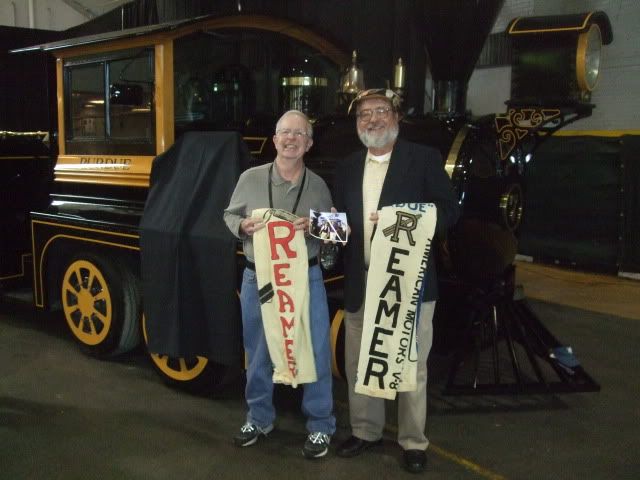 We didn't know anything about it until we got there, but a professional film crew was at the luncheon. They had been commissioned to prepare a "short" on Purdue Spirit, The Purdue Reamer Club, and the new Boilermaker Special VII school mascot. They saw our 1968 picture and what we were doing and pulled us aside for a video and interview they said will be a part of a Big Ten Network cable TV production to be aired November 11.
Overall, a gorgeous Indiana fall day with good friends.
Hail Purdue
...and thanks to
Studebaker
for the chassis that originally got this project
off the ground,
if you'll pardon the pun!
<GGG> BP