For the last few weeks I've been deconstructing the rear frame and running gear of the 74 Avanti.
Now after being showered with rust scale, cleaning more grease off me that any time in the last few years and putting ointment on a few scattered weld burns, I can see progress.
The frame has been opened up, POR-15ed, new 1/8" X 4" bottom plates installed, new lower spring/frame connectors fabed out of 3/16" X 6" plate, reinstalled and coated with 3M's best undercoat.
New rear springs (courtesy of my local A1 Truck Shop) installed with new bushings in the springs and connector arms.
New rear cross member bent by my favorite local muffler shop, installed by me and rust proofed.
Dana 44 rearend opened up and a new posi and 3.54 gearset installed by me. PITA messing with all the shims in and out several times but it is set up to the Dana/Spicer specs. All new bearings and seals.
Here's what it looked like at the start.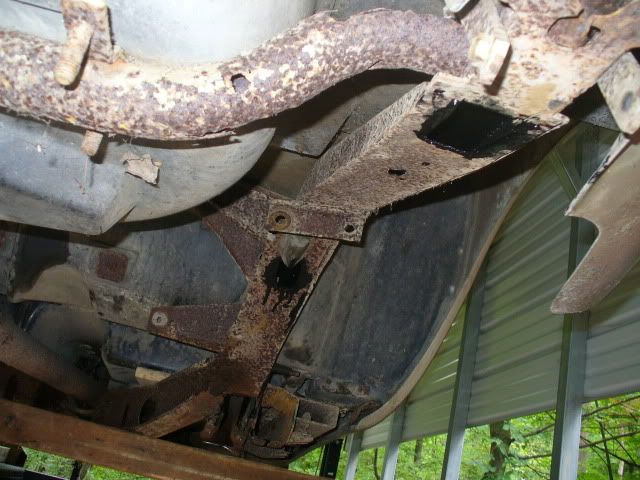 Today, after finishing lawn, I turned XM 50's on the Ipod and finished the axle install.
This is a shot of the new cross member.
An added note: Today was the best day of music I can remember on XM 50's, not a bad song for hours.
Lastly, As I was putting the tools away, I noticed a wrench with my now deceased brother-in law's initials on it in my hand. That stopped me for a minute to reflect on him and how good a guy he was. Putting away more of the tools, I counted among the tools that I used those from my DAD, my GRANDFATHER and two deceased BILs. A lot of fond memories as I write this tome, they were all great people. The saying may be correct, "The good die before their time".
Great day. Now on to those pesky hog troughs.
Bob