We bought this 1958 3E7D - 122 C2 cab in 1985.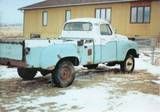 Fast forward 26 years.
Still have a few things to finish up. Need to put in the interior, a pair of door locks, clean up the engine compartment, put on the spare tire carrier.
Moved the front turn signals down like was done on the 1959's. Stainless moldings done by Matthew Burnette. He did a great job on it.
Here's a link to the photos of the body work done from December through June of this past year. Every day from 4:00 - 9:00 and most weekends. Never knew that you could sand so much that your fingers would begin to leak blood!
Hope you all enjoy the photos.
http://s1091.photobucket.com/albums/...cpZZ1QQtppZZ24