Wednesday Evening, August 10th.
'Just got back from an evening at Muncie Dragway with Ted Harbit practicing in
The Tomato
for the
2011 Pure Stock Muscle Car Drag Race
coming up next month.
(
Tomato
= Ted Harbit's 1963 R2/4-speed Lark Custom 2-door, for folks new to the forum.)
SDC friend Howe Clark (left) accompanied yours truly for the trip. Ted on the right: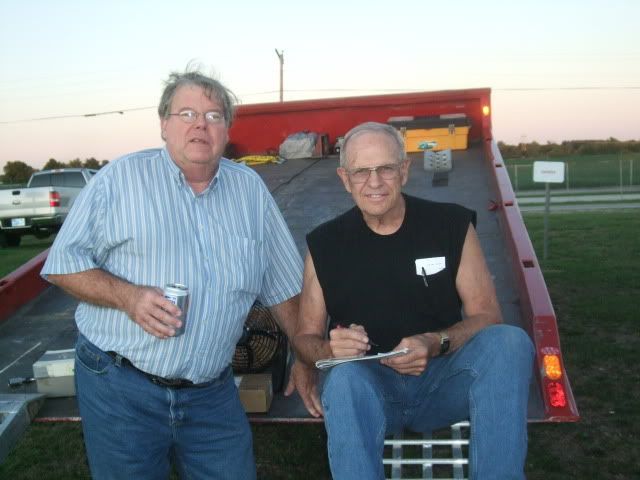 The Tomato
was running well, shown here launching on Run #3 of 4 runs, what would be the fastest run of the evening: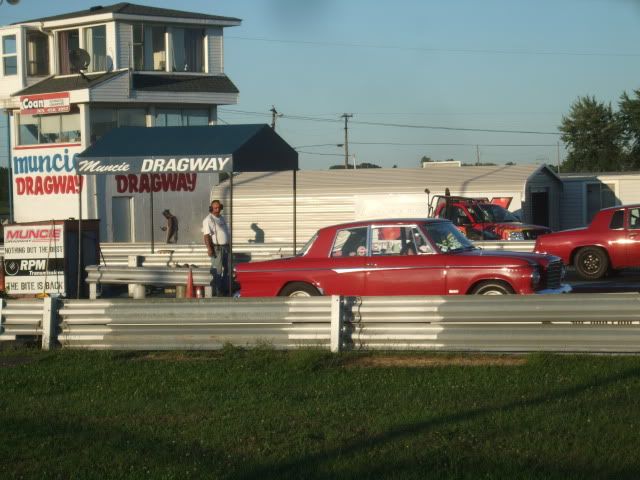 In all, Ted made
four
runs. Here are the results. Numbers are
First:
60-foot Time
Second:
1/8-mile ET
Third:
1/4-mile ET
Fourth:
1/4-mile Terminal Speed
Run #1:
2.380, 9.461, 14.307, 103.15 (Bad spin at launch accounts for low ET and 60-foot)
Run #2:
2.187, 8.854, 13.467, 107.86 (Slight bog at launch; not too bad)
Run #3:
2.169, 8.699, 13.230, 109.46 (Best run of the evening; pictured above)
Run #4:
2.180, 8.874, 13.431, 109.09 (Got a little sideways at launch; had to back off!)
The heat of the last two Wednesdays finally abated, so many cars came out. It was a pleasant evening; maybe in the 70s most of the time we were there.
Ted decided he'd not hang around for the eliminations, as they would probably not start until 9:30 and he had had a good evening, so he loaded up:
Letting the bed down to level:
Treat for the Studebaker Truck Farmers; the business end of Ted's hauler:
Overall, a great evening. Ted is feeling well and rarin' to go for The Pure Stock Drags!
(
Update 8/12:
See video links in Posts #12 and #16, below.)
BP