My 56 T-bird buddy and I went to the first car show of the season in the area today. We took the 83 Avanti to Freeland, Michigan to the local Walleye Festival Car Show.
Pulled into the show, was asked Stock or Modified? Told 'em it had a lot more motor than stock so they said it must be modified so I paid the fee, parked the car and went on about our car show business.
Show had over 100 entries with a nice eclectic collection of stockers, hot rods, rat rods and classics.
Spent the day talking to a lot of folks about their cars and answering questions about mine. Long story - Short. Show ends and prizes are being awarded, we are talking to the owner of the neatest 32 Buick stock looking coupe with a 455 under the hood with disc brakes and 9" rear end and original wire wheels, when I hear Car #81 - second place, modified. Well Dang that's me so I go get the trophy.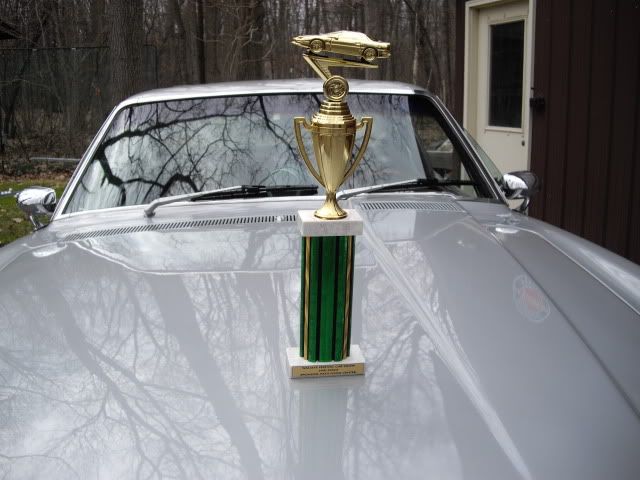 They then announce the Buick Coupe as First place winner and Best of Show.
I'm amazed, the 83 has a 10 foot paint job, with all the associated chips and scratches as well as a decent but worn original leather interior. There were a lot of better quality modifieds there than mine. I guess the combination of the unique style and the non-chromed deep throated SBC that folks were talking about during the show paid off. It's gratifying as the only folks that could vote were other show entrants.
Chalk another one up for the Loewy design!!!!
Bob