This just in from Indy Chapter SDC Member
Andy Hess
. This car is reasonably complete but needs a full restoration. I'll post a picture of the rig later, but wanted to get this out ASAP:
BP
My newly acquired 1938 Commander State sedan and car trailer have been stolen from the storage facility on West 10th street here in Indianapolis. I have attached a picture of both the car and the trailer. The trailer has 1961 Studebaker full wheel covers on it, and a jack with a wheel on the right side of the tongue. The car was covered with a large blue tarp.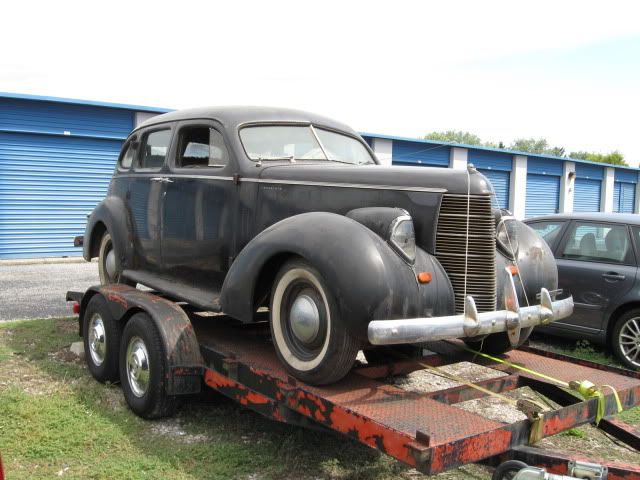 Andy's Commander had lanquished on consignment in a small hobby collector car store for several years in little Bainbridge IN maybe 60 miles due west of Indianapolis, where I had seen it [inside] before Andy bought it. All parties finally got together on it last year some time.
Andy bought it and pulled it onto his trailer and had it stored in a place he felt was secure until he could take it home. IIRC, it had been there maybe 3 or 4 months before it disappeared.
Bummer.
There just aren't that many of these around and the car is far from operable, although it was said to run maybe 12-15 years ago. So I hope this Amber Alert causes someone to see this rig flying down the interstate. If you see it, be assured that it isn't being pulled by the rightful owner unless the guy's Drivers License says
Andy Hess
!
Andy is a super-nice guy who would have done this car proud in due time. I hope we can nail it down for him. Thanks for all keeping their eyeballs peeled.
BP