So Thursday I headed out in the Fordabaker with Tallahassee, FL in my sights. Had a fully dressed 224 truck motor in the bed, as well as a set of wheels/tires and engine side panels for my buddy's '38 Commander. (The radials will replace the bias ply's that have been on there since the '60's...)
Made it to Tallahassee with no problem at all. Friday morning I headed to Gainesville, FL to pick up a cab from a Transtar. Made it there with no problems and got loaded up, time to head home. So after a couple of hours of driving, I took my exit off the Interstate just south of the Georgia border and stopped to fuel up. Went to start the truck back up and it wouldn't start. After cranking and cranking it was as if someone unhooked the battery; DEAD. So I got out, cleaned the battery posts and terminals.. Still nothing. So after trying all that I could do there in a middle-of-nowhere gas station, I called my granddad who showed up a couple hours later with his truck and car trailer.
We got the Fordabaker loaded up and arrived in Hazlehurst at about 12:30 AM. Unloaded the truck at the shop, and I drove my granddad's Dodge home while he drove the Avanti. I get home and realize that I'd left the house keys in the console of the Ford... So I drive back to the shop, get the keys, and head back home once again.
Fell asleep as soon as my head hit the pillow and woke up and headed out to the South Georgia Chapter SDC club meeting. Hosted by my grandparents at the little community center out near where they live. 6 Studebakers were present, 5 of which belong to members of my family. Not pictured is the '58 (or 59?) 'farm truck' pickup that my granddad owns.
'53 Studillac, '57 Silver Hawk, 2 '63 Hawks, and a '51 Champion Starlight.
The '53 is my uncle, Mitchell Pair's car. '57 Hawk that my granddad has owned since '79. '63 Hawk is my grandmothers, red '63 Hawk is chapter member Loren Hendley's, and the '51 Champ is my other uncle, James Thornton's first car he got as a basket case at age 14. He's now 38.
The white '63 has been owned by my grandmother, Edie Thornton, since 1993. After a few years the car was looking rough and my granddad spent a couple of years going through it and finished it earlier this year. She has been driving it everywhere!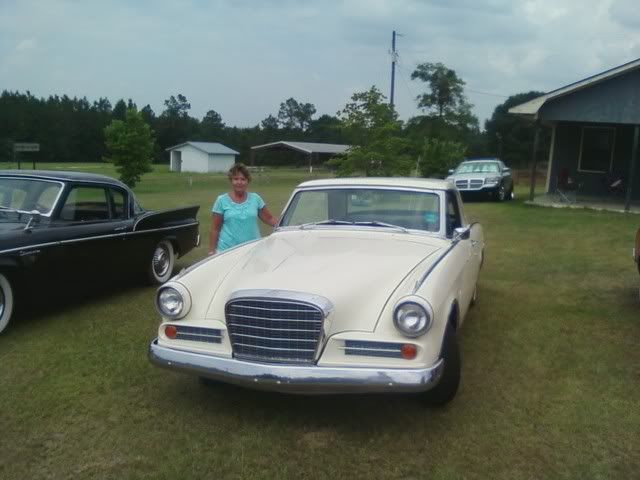 The meeting went well. This was our annual elections meeting and I somehow ended up as the chapter webmaster. Like I needed something else to do...
After the meeting, my uncle James and I headed up to the shop and started checking out the Fordabaker. A test light revealed that we were getting power to the fuse box, which ruled out the original theory a friend suggested; that the fusible links were blown. (Which made sense to me..) After checking out everything we noticed that if we moved the ground cable on the battery around, it would effect the volt meter's reading. I removed the cable and found it to be burnt up on the bottom side. I replaced it with a new one and everything seems to be ok now.
Heck of an adventure and it's good to be home..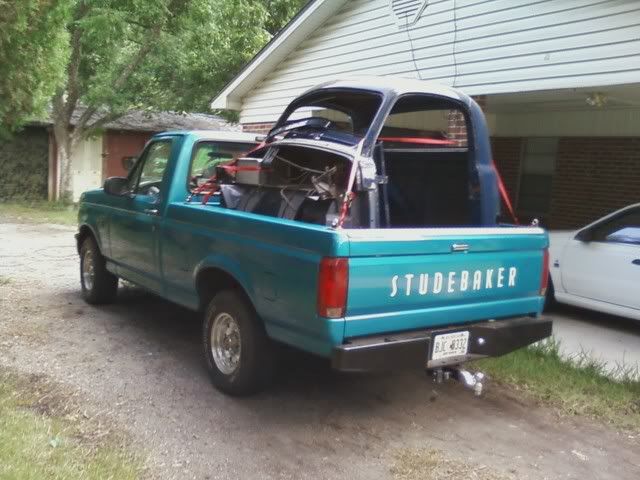 To add to the weirdness, this is my grandmother with a '56 Sky Hawk (Overdrive equipped!) that my granddad owned in the late 60's. He flipped the car about
5 miles
from where I broke down in the Ford. The wreck happened in June of 1970, just over 40 years ago! My granddad certainly felt a bit uneasy when I told him I was "broke down in Jasper, Florida..."