BESS.... IS... LEGAL!! Woo hoo!
Yay!
I know, I know, big deal. But it's a biggie to me. She was last tagged in 1984. I
think
the coughing and backfiring problem have been solved. She's been driving really sweetly lately. I'm taking her down for new <s>tyres </s> sorry, tires, tomorrow or possibly Friday (is it wednesday already???[:0]). So she's almost good to go.
Now I can take the Champ's front end apart and see what's wrong with it.[xx(]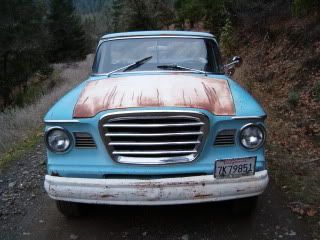 Home of the famous Mr. Ed!
Lotsa Larks!
K.I.S.S. Keep It Simple Studebaker!
Ron Smith
Where the heck is Lewiston, CA?