Hello All,
Well as you guys know I have a never ending problem with my engine. When I first bought the car it was kinda doing the same thing. I have replace the electric fuel pump for a Carter 7 psi and I have also replace the old Holley 600 for a new Edelbrock 1406 with automatic choke and i still have the problem that now my new carburetor is over floating and is not stable on idle, as you can see in the video the engine works fine in high idle but when is idling and I step on the gas it chokes, and i can also see the carburetor pushing the gas back to the line once the car is off.
I have replace almost the whole damm engine:
Chevy 350 5.7
Carter fuel pump 7psi
Edelbrock 1406
3/8 Steel Fuel line
Fuel regulator
Fuel sending unit with pickup
I line my gas tank (seal it inside)
HEI distributor with coil
Spark plugs
Spark plugs wires
Thermostat
Temperature sensor
Starter
Chrome headers Headers
Chrome Valve covers
New radiator hose
Power steering pump
I repair my power steering gear box
Yes I change the transmission oil/filter and seal.
and i have more more i have done....
Most of this things i mention here doesn't have anything to do with whats happening to me but just wanted to show how ungrateful my engine is
Here is a video you can see when i step on it, wants to turn off, We have play with the carburetor and cannot get it to idle fine for 5 minutes:
http://s33.photobucket.com/albums/d5...ENOEXHAUST.flv
Here is the last video I took yesterday after changing the Valve covers:
http://s33.photobucket.com/albums/d5...rsnoexhust.flv
Heres some pictures of what I have done lately to it:
Line my tank inside and painted outside
Summit chrome valve covers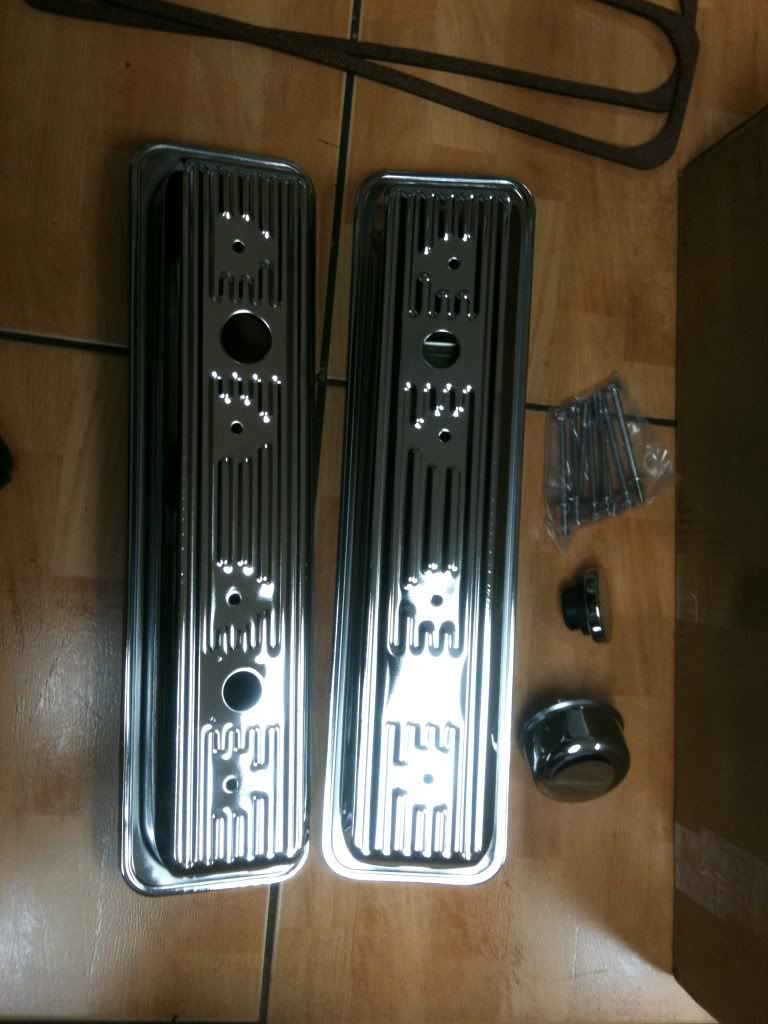 Install my headers