Well, looks like I'm paying the price for not dialing in the bellhousing (don't know how, none of the tools) on the Champ. The reason that it wouldn't start wasn't a worn out starter drive. The teeth on the fly wheel were chewed off. I can't get anyone to help me with this around here, and the mechanics look at me with a blank expression. Would you believe it? The professional mechanics around here have no idea what I'm talking about. They just stare blankly at me when I tell them what I need to do. I've even showed one fellow the manual and he scratched his head and said, "Okay, but what would you want to do that for?"[:0][V] Turns out he didn't even have the necessary tools. And I happen to know this guy is otherwise a really good mechanic!
Fortuneately, I have another flywheel here. So replacing it will be a royal pain, though do-able. Oh, to have someone like Ken around within a hundred miles.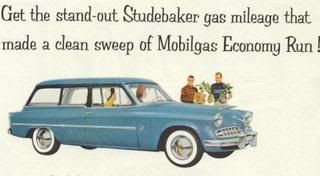 Lotsa Larks!
K.I.S.S. Keep It Simple Studebaker!
Ron Smith
Where the heck is Lewiston, CA?