quote:
Originally posted by OzarkPetunia
Heeellllooooooooo!
We're finally reassembling the Super Coop after a VERY long nap (burned valves on the 185 on the way home from Cedar Rapids) and I need some help figuring out which doohickeys are turquoise vs black vs metal.
Pretty please?
Oil breather cap, coil bracket, throttle linkage, fan & water pump pulley, generator adjustment bracket... I'm sure I'm missing a bunch...
And when I got the car the oil filter canister was mounted on the right fender but we've gotten a bracket and hoses to mount it on the engine. Does anyone have some fabulous pictures of how it's mounted and how the hoses are routed?
Thanks for any help you can offer!
~Rose
Fayetteville, AR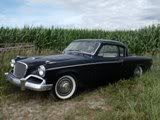 Any help would be appreciated.
Originally posted by Ozarkpetunia in the tech section.
http://forum.studebakerdriversclub.c...TOPIC_ID=40846
From deep in the Ozarks...
Fred