I'm a new user checking in. I've been watching for a while but never said anything. I have 2 Studebaker trucks one is a 1949 2R-15 we've decided but someone has put a 16 cab on it. The other is a 5E6 champ. I just got the champ this last weekend so I am going to be putting most of my time in it for a while. Here they are together: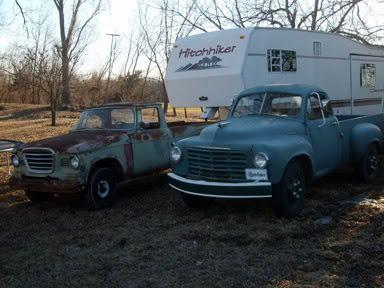 Any info on the champ would be appreciated. It has a an OHV 6 which I have read didn't come out until 61 so it can't be original. I also wonder if it has overdrive. Looking at the wiring diagrams there is a switch and I think I have identified it on the firewall but its not hooked up. Probably because they changed the engine. Reverse is in the upper right position and the stick is on the floor that is about all I know about the tranny right now. Tell me what you think and anything you know about it. I am hoping to make this an everyday driver that can go down the road at todays speeds. Here is a picture of the engine compartment for reference.
Edit I just noticed I said upper left for reverse and I meant upper right.
1949 2R15 with a 16 cab.
1960 5E6 Champ