I am ready to install the 2-piece windshield in my 1950 Champion and have some questions. In the shop manual for the 50 it says to lay the rubber on a table and use an approved sealer in the rubber and then put the glass in the rubber. Next apply an approved bedding putty to the inside of the windshield opening flange. It also says to use pieces of hardwood between the two pieces of glass at the top and bottom. Then hold the whole thing up in place inside the flange and work the outer ends into place over the flange first and then use the string at that point.
Questions: What kind of sealer can I get locally?
Where can I get bedding putty or better yet, what is a good alternative if I cannot find it around here?
ANY SUGGESTIONS will be appreciated as I will be doing this by myself and although I have become pretty good at working with "dead men" this will be a challenge.
Thanking you in advance.
Jimmie
Orange County, Indiana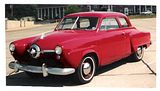 1950 CHAMPION -ORANGE COUNTY, INDIANA