Tuesday and Wednesday my wife and I made a test run of our Potomac Chapter Spring Tour (from Winchester, VA to Roanoke, VA). At the O. Winston Link Museum in Roanoke we were met by a South West Virginia Chapter member, Willard Hamill. After giving us a brief tour of the Link Museum he told us to be at the Museum a little before 10 am the next morning and he would take us to the Transportation Museum. Wednesday morning he came rumbling up to the Link Museum in a very nice turquoise '63 Avanti. I noticed it had the standard Avanti A/C in the console, but it also had Avanti Supercharged emblems on the front fenders. This is what I found when he opened the hood-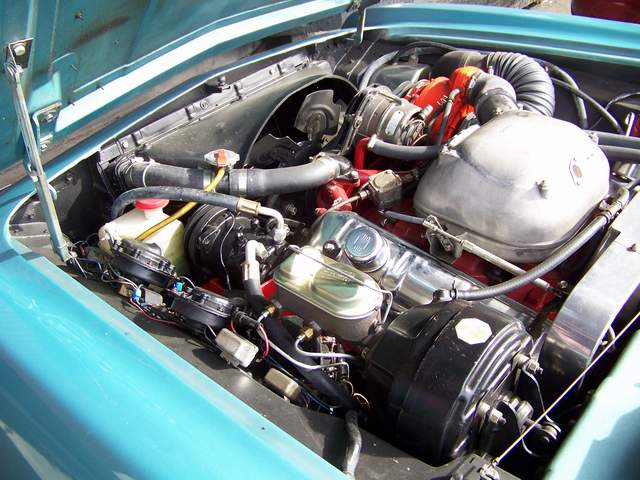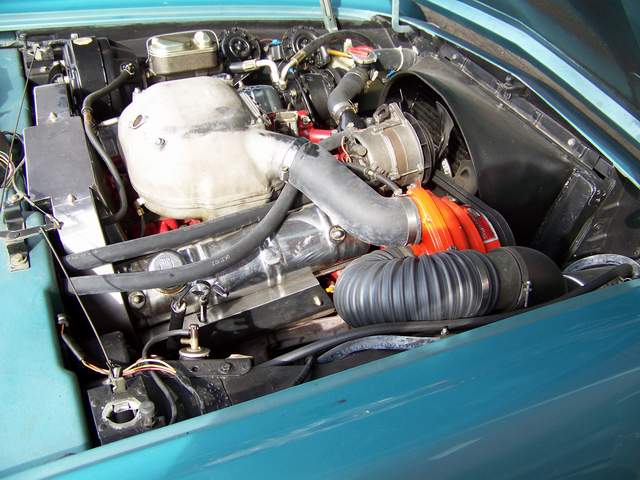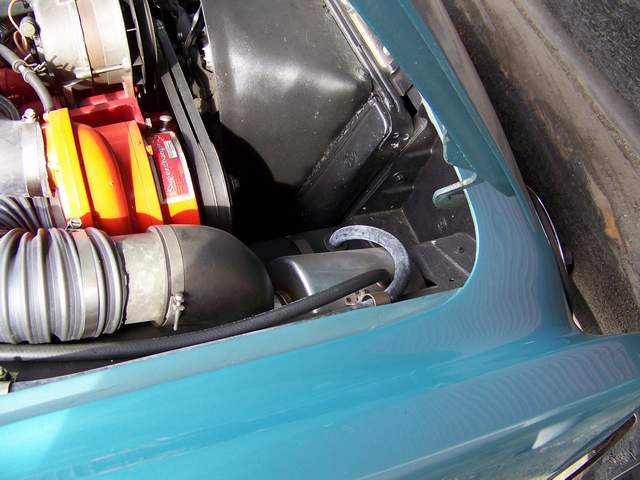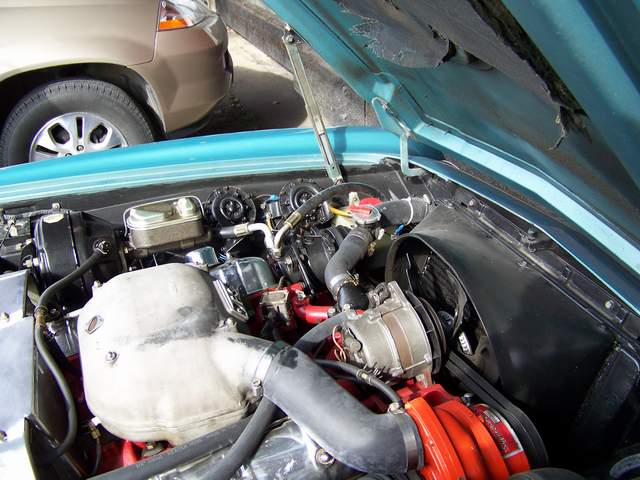 Needless to say, the battery is in the trunk. It had the regular York compressor until Willard had it replaced with the little Sanden.
When Willard bought this car it had a 4.27 rear with Powershift. The PO used it for drag racing- claimed to have never lost to a Corvette.
Anyone traveling I-81 should plan to take several hours and stop off in Roanoke. The Link Museum is filled with O.Winston Link's wonderful black and white steam train photos and much railroad memorabilia. The building it is in is also the Roanoke Visitor Center. It is the old Norfolk and Western passenger station which was modernized in 1949 by none other than Raymond Loewy. Part of the building is a Raymond Loewy Gallery complete with Studebaker pictures, stories and models. The Transportation Museum is a few blocks away in the N&W Freight Station, a very large building. Several Studebakers are on exhibit with the star a '62 taxi posed under a huge neon sign for the cab company. There are very extensive railroad exhibits including model train layouts and several steam locomotives. The Director of the museum is a Studebaker guy too. A volunteer who was there when we visited was a Packard guy. He took us to the storage area where they have more Studebakers including a special '53 Commander coupe which was used for highway research- has all sorts of computers built in to the dash and more.
Paul Johnson, Wild and Wonderful West Virginia. '64 Daytona Wagonaire, '64 Daytona convertible, '53 Commander Starliner, Museum R-4 engine, '62 Gravely Model L, '72 Gravely Model 430