This car was for sale this summer and he wanted thirty-five hundred for it. Wouldn't accept less. Now, he's selling it as a parts car. Pity... I had the money this summer and now...
http://cgi.ebay.com/ebaymotors/53-ST...item2305472088

The car has a beautiful interior, it's just a rust bucket. It would be wonderful for someone who has a rust-free (or nearly) with an interior toasted and roasted.


One good thing about that bad of rust is that you can likely just give a heave-ho and pull the seats right out.
[

)][:0][B)]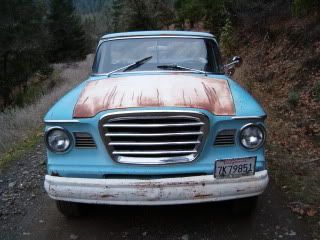 Home of the famous Mr. Ed!
K.I.S.S. Keep It Simple Studebaker!
Ron Smith
Where the heck is Lewiston, CA?