From the DEPARTMENT OF MOSTLY USELESS FACTS: (always wondered why an American car company would use a Japanese source for light bulbs, as per my Studebaker owners manual)
Mazda (light bulb)
From Wikipedia, the free encyclopedia
Jump to: navigation, search
For other uses, see Mazda (disambiguation).
Ad for the Mazda service mark, 1917.Mazda was a trademarked name used by General Electric and others for incandescent light bulbs from 1909 through 1945; Mazda brand light bulbs were made for decades after 1945 outside the USA. The company chose the name due to its association with [Ahura] Mazda, the transcendental and universal God of Zoroastrianism whose name means "[Wise] Lord " in the Avestan language.
The company licensed the Mazda name, socket sizes, and tungsten filament technology to other manufacturers in order to set a standard for lighting. Bulbs were soon sold by many manufacturers with the Mazda name attached, including Westinghouse. The company advertised their new tungsten bulb standard with paintings by Maxfield Parrish.
The company dropped the campaign in 1945 in the face of competition from Japan. Today, the Mazda name is mostly associated with the Mazda automobile manufacturer of Japan. The Mazda trademark is now split between the Japanese manufacturer where it applies to automobiles (including automobile lights and batteries) and General Electric for non-automotive uses.
gotta love Google. Junior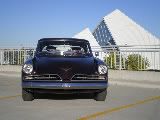 54 Champ C5 Hamilton car. In my family since 1958.