Do all Studebaker (ton and over) trucks have six lugs? I have several newer vehicles (Motorhome and trucks) that have eight lugs. Isn't that more normal?
EDIT:
Well I found a partial answer on the Truck Page. It seems that there was a '63 or '64 Champ produced with a one-ton chassis and it has six lugs. Go figure.
It's kinda sad what a few years will do to a truck...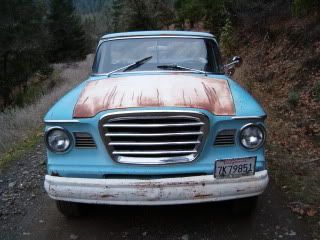 Home of the famous Mr. Ed!
K.I.S.S. Keep It Simple Studebaker!
Ron Smith
Where the heck is Lewiston, CA?