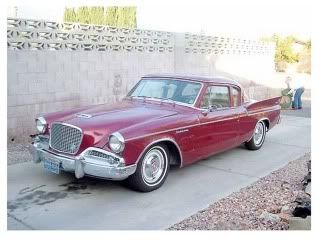 Hi All,
I'm a newbie to the forum and this is my recently purchased 60 Hawk. She needs some work, mostly mechanical, but is driveable. This is my 5th Studebaker. The first was a '48 Commander Convertible in 1958. That was followed by a '53 Commander 2DR HT hot rod (put a full house Rocket 88 in that one...LOL) in '59. Then there was a '55 4DR in the late 60's followed by a '62 GT Hawk in "72 or so. Forgive me on the dates, I seem to have developed a terminal case of CRS in my later years.
I also have a '37 Ford PU that is just about done and I needed a new project...
It still has the old flathead (mildly hopped)and all the mechanicals have been completely rebuilt. It was built to be a daily driver as will the Hawk.
It ain't a car if you can't drive it!
Anyway - that's my story and I'm stickin to it...
Comments are welcomed ... no extra charge for tall tales.
Mike