While driving in the southbound lane of I-81 in Virginia at mile marker 259.5, which is a little north a Harrisonburg I believe, on the right side of the highway is a 53 coupe that has been put out to pasture
, I couldn't ge a pic at 70 mph, but the car looks to be a good candidade for restoration and all that I could see missing on the car was the passenger side rear fender, the car is in fact a 53, it is a Navy blue color, and is a coupe from what I could tell while being the driver. More info would be greatly appreciated.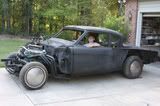 Alex Nelsen, 15 year old Studebaker nut.
1954 Champion Coupe
Lizella, GA