I would like to buy a spare powershift transmission from a guy I know. I know the transmission is needs a complete overhaul and at this point nothing more than a complete core. A major transmission overhaul kit is going to cost about $190 plus new front and rear bushings, then I have the cost of a rebuilder to repair the transmission.
What's this transmission worth to be absolutely fair to the owner of this transmission and me, the guy that has to have it repaired?
Allen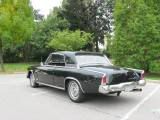 1964 R2 GT Hawk
1963 Daytona Convertible
Oakville, Ontario.
Hamilton Chapter