quote:
Originally posted by lstude
If you can go by the 63 Studebaker brochure (which has some mistakes like they didn't put these on Hawks as shown), The white bands are in the same place as the photos of the wheel cover above.
Studebaker also was the only company who used those narrow band whitewall tires that had no black space between the whitewall and the rim.
Leonard Shepherd, editor, The Commanding Leader, Central Virginia Chapter,
http://centralvirginiachapter.org/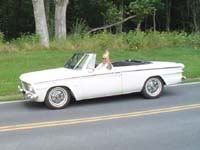 I can't think of any other manufacturer that used that type of whitewall for original equipment, but they were available for replacement use. My 1963 Cruiser still had its original, unused spare that was one of those whitewalls. I also bought another set of tires with that whitewall. I remember that the set of tires were not the same brand/manufacturer as the spare. This tells me that at least two manufacturers made that type of whitewall. I believe one was B.F.Goodrich. I don't remember the other for sure, but it might have been Uniroyal (U.S.Rubber).
Gary L.
Wappinger, NY
1959 DeLuxe pickup (restomod)