Well, I took the Parkview out for it's trial run. It overheated, the brakes were weird pulling from left to right (Not unexpected, I rather expected to have to adust them), and the carb was rather inconsistant. It would stall in idle and refuse to restart without the choke fully on. This whilst showing that it was overheating? Not only that, the cap didn't release any coolant, that is to say, it didn't boil over with the gauge showing very hot. There was a good deal of smoke and steam, though not enough to be more than a mild concern. Not like there were clouds of it anyway, and not noticeable till I stopped. I did spill some oil whilst working on it, and there was a leak in the oil filter canister that just got fixed yesterday. Not to mention twenty-five years of debris.[:I]
Other than that, the experiment went swimmingly. The car ran largely smoothly and was a delight to drive. It climbed the hill without any more labour than the understandable, due to the overheating condition. The OD
is
definitely engaged, and I need to get the cable working. Yet, with the lever in the engaged position it will go into reverse[?] Go figure.
I've started another thread in the Technical section for suggestions (and boy do I need 'em).
[:I][8)]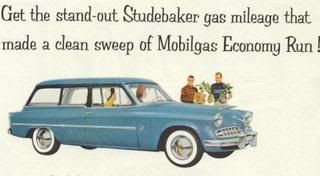 Lotsa Larks!
K.I.S.S. Keep It Simple Studebaker!
Ron Smith
Where the heck is Lewiston, CA?