For those of you that are interested in jigsaw puzzles and have a Hobby Lobby close by. They are selling a 19" X 30" puzzle titled "Draggin the Circle" It is a painting by Randy and Bryan Welborn of some 50's cars and trucks driving by the Hub Diner. On the parking lot of the diner is a 1957 Golden Hawk and a 1955(?) Packard. The puzzle sells for $12.99.
They also have two other puzzles featuring old cars that are pretty interesting.
One has a couple of Hudsons parked at a gas station with Willys in the back ground.
The other is a used car lot at an Olsdmobile dealer. I did not see any Studebakers in either of these puzzles.
Both of the above are period photos black and white. Check them out.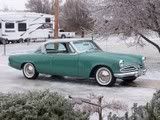 Gary Sanders
Nixa, MO
President Toy Studebaker Collectors Club. Have an interest in Toy Studebakers? Contact me for details.