If it is God's will I will soon be putting the new headliner in my 50 Champion. The bottom side of the roof was sandblasted and now it sounds like a drum when I close a door
. What have others found to be satisfactory in this area. When I bought the car back this time, much of the old original material was laying on and discoloring the "new" headliner which I had put in 1988. I do not want this to happen again if I can help it.

Also, I want to replace the similar looking material inside the doors since most of it came off while the doors were being restored-would the same material be used for this as for the headliner?


Thanks to anyone who has had experience in this area who can help me with this project.
Jimmie
Orange County, Indiana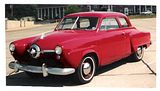 1950 CHAMPION -ORANGE COUNTY, INDIANA