I started the '56 Parkview today. I had to turn it over for a bit to get the gas up to the carb. It sputtered and then purred along like it had just been champing at the bit to get going. Sounded great! Actually sounded better than any of the others I have.
Unfortuneately, the pump in the carb started spraying gas all over the motor, so I had to shut it off. Pity, it sounded so good. I'll be able to get it going tomorrow. I pulled apart another carb and put the pump into the '56. Funny, there was practically no change (other than the side draft) between a '64 carb and a '56. Carb works fine now. Actually idles better than any other 2bbl I own.
It's so hard to believe that Studebaker was only able to sell three thousand and change of these. It's
such
a nice car. Runs rings around the Chevy my Mum used to have. No seatbelts though. Must fix that.
I just can't wait to drive this! I was feeling a bit depressed because of losing my job. Just looking at this car lifts my spirits. Can't stop grinning every time I look at it. Flat broke, but happy.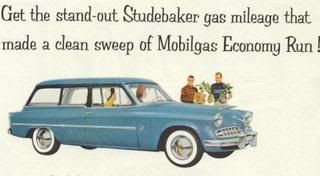 Lotsa Larks!
K.I.S.S. Keep It Simple Studebaker!
Ron Smith
Where the heck is Lewiston, CA?