Hot Wheels will be releasing a new car named Studa-Beaker. I have not been able to find any pictures of the car yet. At the bottom of this web site is a picture of the 30 car set it is part of. Can you spot the car that is the Studa-Beaker?
After looking at the picture again look at the center bottom car.
http://www3.webng.com/hotwheelsbr/Cl...Classics-5.htm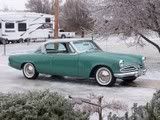 Gary Sanders
Nixa, MO
President Toy Studebaker Collectors Club. Have an interest in Toy Studebakers? Contact me for details.