...from CeRap...
Kind of an unusual car- 259 Auto TT, P/S, rear A/C that looks original. Has very nice reclining bucket cores, couple decent door panels, almost perfect dash and excellent red and white wheel. Has a clock in the glove box door. Also a really cool vintage SW tach![8D]
Mainly I wanted the rear end assembly. Checks out to be a 44 TT, 3:31 gears. Must be good shape, it made the 700-mile trip without any trouble! As a bonus, has an excellent pair of taillights[8D]
Engine has oil in it and the rad's full of green anti-freeze. Missing the A/C compressor and brackets
. Maybe next week I'll rig up a can and see if it runs. If it does I'll put the driveshaft back in and try the trans.
Picked the car up in IL. Bought it off Craigslist last month. Typical story- rural area being crowded by development and the car had to go. Floors and frame are rough, so she's definitely a parts car.
Well worth the $400, but the 1400 mile round trip would have killed the deal
But since I was going through there anyway......
Question- Shouldn't a Cruiser have higher-level trim on the outside??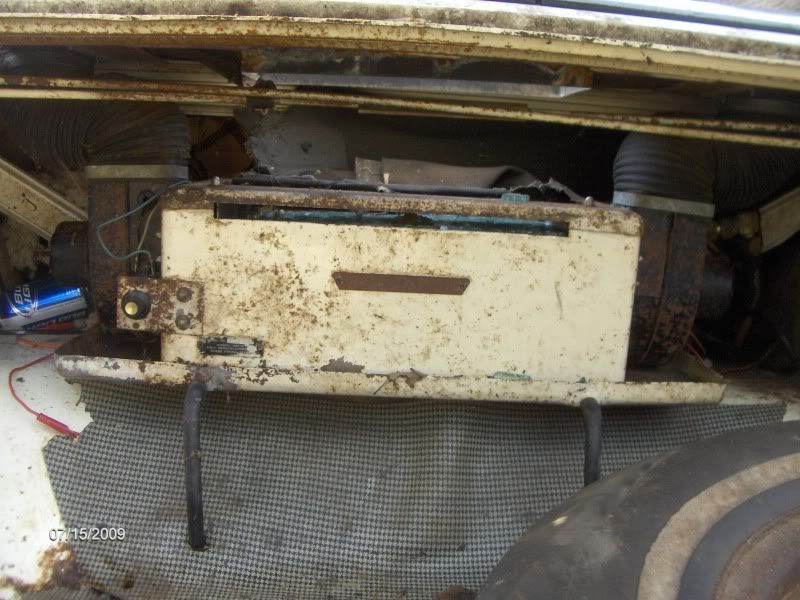 Robert (Bob) Andrews- on the IoMT (Island of Misfit Toys)
Parish, central NY 13131