hey,
wife and i decide its time to sell our 1962 studebaker lark 4 door..
carries a y8 body tag. it is Flamingo in color with blue interior, interior is good, it had all the body work ad paint done in 2002 it has some chips now and some bubbles under the paint on bottom of doors. has new brakes and tires, it had a heart transplant in 2005 with a 350 chevy and 350 turbo trans, 3.73 reargears with tt. good tires chrome is good. i hav ent shown it since 2005 but it won some trophies i would call it a good car, not excellent but better than fair. it was on turning wheels cover in feb 2003 i think..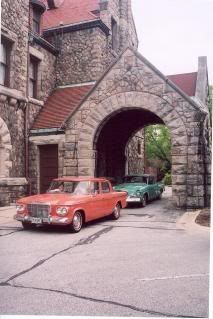 Erin Hays
"From Stuck and Rusty to Slick steel and sex appeal"
RZRECTD
1961 Hawk
1962 Lark
1963 Wagonaire