Fort Hawkins car show today in downtown Macon. If you have a Stude in the area, please bring it.
http://www.forthawkins.com/images/FH..._flyer_PDF.pdf
There should be over 200 cars.
I should be going, but can't bring a car. Last year we brought my brother's 59 chevy 4 door and my Dad's 70 Trans Am.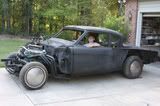 Alex Nelsen
1954 Champion Coupe
Lizella, GA