The champ is rollin!
Got it started on Thursday and worked out the bugs to get it running well. Seems that some insect had moved into the fuel line. They had set up house in a one-way valve sort of way. Unfortuneately, that was the wrong way. Cleared that out this morning. Thursday and Friday I tinkered with the distributor and it's components (running on a two gallon can). So today I was able to take it to the gas station and the post office. Tooled around town and it climbed up the hill to my house like a goat. THE CHAMP IS ROLLIN!! Rollin! Rollin! Rollin in my Stuuuude!
YAY... WOO HOO!
This is the first time in over a year that the Champ has been on the road. Maybe as much as two years.
Still have to sort out the brakes though, registration, insurance, I think the carb(Holly 650 cfm) will have to be re-jetted...[xx(]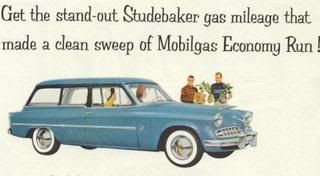 Lotsa Larks!
K.I.S.S. Keep It Simple Studebaker!
Ron Smith