I would suggest getting on the phone and calling around some old tranny shops. Ask for an old guy that has worked on FMX- Borg Warners. You could try some old auto publication for the local gear heads. Those publications have lots of ads for classic car guys.
I just had mine rebuilt, and just took it out for the first time in 7 months about an hour ago. She shifts perfectly!
I ordered a major rebuild kit from Jon Myers for my powershift. Bought a new HD rebuilt torque converter from him too. If you go that route buy the front and rear bushings as well, they don't come in the kit.
Good luck,
Allen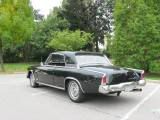 1964 R2 GT Hawk
1963 Daytona Convertible
Oakville, Ontario.
Hamilton Chapter
See you in Cedar Rapids Summer 2009